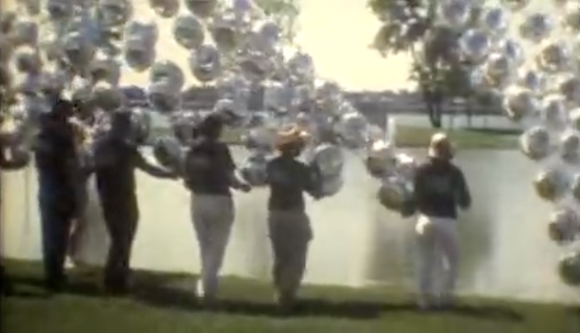 We received a nice note from an artist named
Martin Hatcher
, a CCS grad and former Detroiter who now lives in Albany. He wrote us to mention that, almost 30 years ago, he put in a temporary art installation in Chene Park as part of "Artists Interpret the River," a seasonal art series that saw the riverfront turned over to artists. Perhaps Hatcher wouldn't mind his "Floating River" being called an "environmental work of art," as it applies to other large-scale projects in which natural or man-made features are adorned with colorful materials. He sent us along a short clip of the artwork, along with an announcement that marks the three-decade interval since it happened. The project, which required 1,000 Mylar balloons, really has to be seen in motion to be appreciated.
Floating River from Metro Times on Vimeo.
Hatcher writes:
If visitors to Chene Park on the day of the upcoming solstice remember the site as it was 30 years ago, they may imagine that reflected glints off the water are ghosts of an art installation. "Floating River," composed of 1000 Mylar balloons, shimmered at the edge of the pond through the weekend of June 20-22, 1986. In this inaugural work of a summer-long series entitled "Artists Interpret the Riverfront," sculptor Martin Hatcher created a "non-existing, undividing, non-drowning wall, border, barrier." Using the unthreatening material of silver balloons, Hatcher sought to visually address the many divisions — geographic, racial, economic — facing those who live along the straits below Lake St. Clair. Three decades riverfront visitors may ponder new ways to address those same issues.