There is a moment in White Boy Rick, the big-screen biopic opening Friday based on local living legend Richard Wershe Jr., where the teen FBI-informant-turned-druglord looks to his father and asks a question.
"How come we stay, Dad? In Detroit."
"Son," replies his father, also named Richard, "the lion don't leave the Serengeti."
Nor the tiger or the red wing, for that matter. But that film script query inadvertently hints at another, much greater concern: Why do people, places, and events that mean so much to us seem to wind up in the entertainment desert when they become movie or TV properties?
The nickname and saga of "White Boy Rick" Wershe are woven into the Motor City's local lexicon. Wershe was recruited by the feds to infiltrate African-American drug gangs at 14, during the height of Detroit's crack epidemic. Abandoned by the government, Wershe was arrested in 1987 after a traffic stop and convicted of cocaine possession at 17 and received a life sentence — the longest-serving nonviolent offender in Michigan history, spending nearly 30 years in prison for the offense until his parole in July 2017. His is the kind of true-life drama that producers of made-for-TV movies and major motion pictures scour the headlines to discover and spin into gold.
In theory, however, White Boy Rick could have been made any time in the last quarter century: Wershe's story was as compelling in the '80s as it is today, perhaps even more so. What took so long? Resident rap luminary Eminem and Hollywood hotshot Mark Wahlberg both were in negotiations to bring Rick to the big screen. Both efforts fizzled.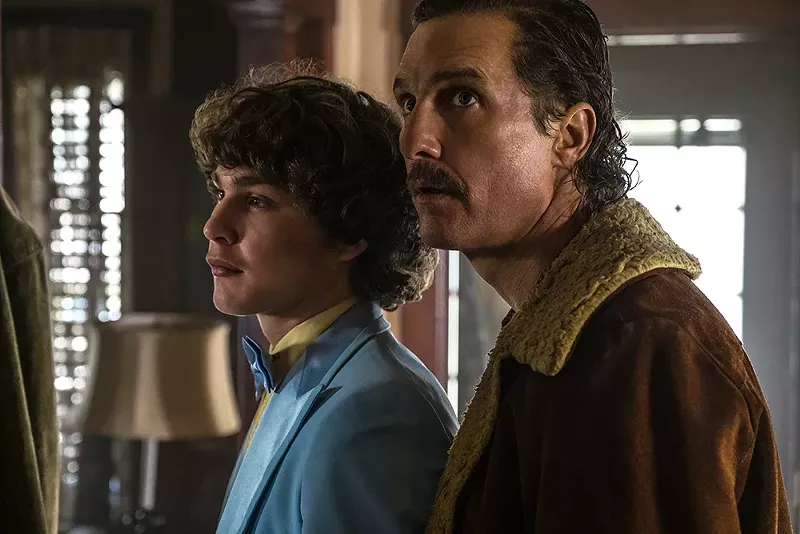 The R-rated production that succeeded in getting made, with some scenes shot in Detroit but filmed primarily in Cleveland (ouch!), stars Richie Merritt as Rick. Merritt is a Baltimore high school student with absolutely no prior acting experience, not a pedigree likely to send moviegoers storming ticket windows. He admitted to USA Today he hadn't heard of his co-star, Oscar-winning leading man Matthew McConaughey, before being cast. And while McConaughey slipped out of his Lincoln MKZ to become the first actor attached to the film as Richard Sr., turning in a performance the Hollywood Reporter calls worthy of another Academy Award nomination, the name of the movie isn't White Boy Rick's Daddy.
We care about 1967 here, too, and the impact of that year's civil disturbance still lingers. Yet despite Oscar-winning director Kathryn Bigelow, positive early reviews, and a solid cast, last year's movie Detroit based on that rebellion bombed nationwide, losing $10 million against its production costs. We care about showing the world we are a safer place, yet the TV crime fighting dramas Detroit 1-8-7 and Low Winter Sun barely lasted one season. Comedy Central's Detroiters? We love the sitcom's inside-joke local references, but does anyone beyond metro Detroit get them?
Why doesn't everybody care about the things Detroit cares about? Can the tale of White Boy Rick resonate with America — or the world?
"I hope it resonates with people, because it teaches an important lesson," says Scott Burnstein, who has more than a passing interest. The veteran Detroit crime historian and chronicler of the website gangsterreport.com has known Wershe for more than 11 years and was hired by Sony Pictures in 2015 as a consultant during the film's long development process.
White Boy Rick shows 'the lengths to which the United States government would go in the name of the war on drugs.'

tweet this
Like most of Detroit, however, Burnstein has not seen the finished product. He missed the world premiere Friday at the Toronto Film Festival, but plans to attend the special preview screening Thursday night at Emagine Novi, open to invited guests and contest winners. Frenchman Yann Demange, director-of-the-moment who helmed the movie, will host the event and answer audience questions.
Burnstein cautions that "it's a Hollywood version of the events that happened, so you're probably only going to have 75-to-80 percent reality," but says its lesson is "the lengths to which the United States government would go in the name of the war on drugs — how they were so morally corrupt and unscrupulous to rationalize the end justified the means in exploiting and prostituting a 14-year-old boy."
Wershe, currently serving time in Florida on a charge unrelated to drugs and hoping to be a free man within two years, gave his approval to this rendering of White Boy Rick and agreed to serve as a resource for the filmmakers, according to Burnstein.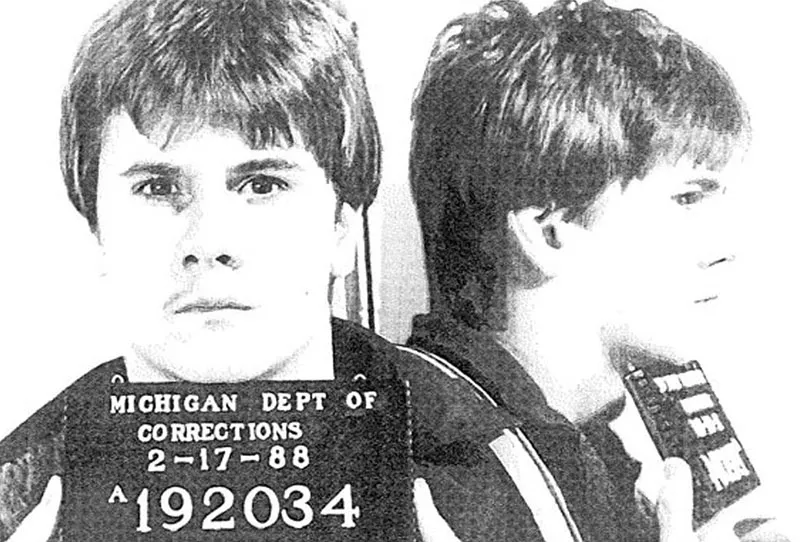 "He never got beaten down by the system," says Burnstein. "He always maintained hope. He is someone who is eager and very able to make a difference in the second half of his story, someone that wants to come out, do right by the community and give back."
McConaughey came away with a similar impression after visiting Wershe at the Oaks Correctional Facility in Manistee while researching his role. "We sat down for quite a few hours," he explained on Jimmy Kimmel Live. "He'd been in 27 years when I talked to him, and he was amazingly genuine."
"Something different from the many people I've talked to in prisons, he was not sitting there saying, 'I'm innocent,'" McConaughey noted. "[He said,] 'No, I was no saint. I screwed up. They exaggerated how big of a kingpin I was, but I think 27 years is too long. I'm ready to get out.' And there's a whole lot of people who got busted selling a whole lot more than he did that got much shorter sentences."
Burnstein hopes White Boy Rick helps in some way to refocus attention on Richard Wershe the man, not the myth nor the legend. "He's got a big heart, very intelligent, very aware of the wrong he did as a kid even though there were a ton of mitigating circumstances," says Burnstein.
"My dream for him, and we've been talking about it for years, is that he gets to tell his story himself," Burnstein says. "He's his own best advocate, and he tells it better than anyone. You have this perception that has been ingrained by the [media] coverage that's really one-dimensional. Then when you meet him or hear him talk, I think he becomes a multidimensional person. It humanizes him."
Stay on top of Detroit news and views. Sign up for our weekly issue newsletter delivered each Wednesday.