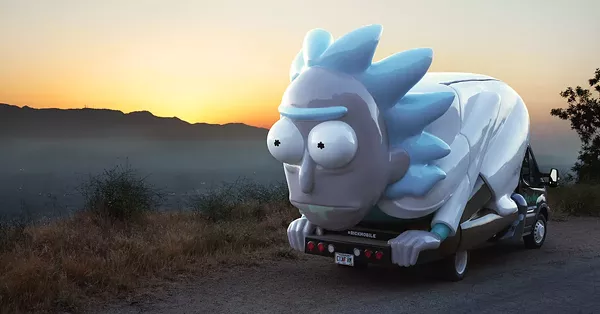 If you find yourself living by the gospel of animated mad scientist Rick Sanchez, then paying a visit to the "Rickmobile" might be akin to some sort of twisted, belching mecca.
While many fans of
Adult Swim's Emmy Award-winning series
Rick And Morty
have proven themselves to be toxic after launching abusive campaigns aimed at the show's writing staff after the series hired a handful of female writers in 2017
(behavior co-creator Dan Harmon has since publicly condemned)
the bottom line is simple: being a
Rick And Morty
fan is complicated. Oh, and
Rick And Morty
is really fucking funny and no amount of assholes can take that away from us.
For those who dare to bare their fandom loud and proud, fans can stock up on
Rick And Morty
gear straight from the belly of the beast, er, Rick. As part of the "Don't Even Trip Road Trip 2018", the "world's largest Rick" will make stops across the U.S. including breweries in Grand Rapids, Lansing, and Ann Arbor this week.
The Rickmobile will serve as a roving store full of
Rick And Morty
exlusive merchandise and collectibles. Supplies, of course, are limited and the store accepts credit and debit cards only. But snapping a selfie with the glossy and grotesque hell-on-wheels? Those are free.
Catch the Rickmobile at Gray Skies Distillery in Grand Rapids from 5 p.m.- 8 p.m. on Sept. 12, Lansing Brewing Company from 5 p.m.- 8 p.m. on Sept. 14, and Ann Arbor's Wolverine State Brewing Company from 6 p.m.-9 p.m. on Sept. 15.
For more information visit
Adult Swim.
Get our top picks for the best events in Detroit every Thursday morning. Sign up for our events newsletter.