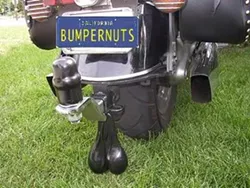 We've all seen it: The metal likeness of a scrotum hangs from a trailer hitch and you start to question to virility of the driver, because they must be over-compensating for
something
.
Well, you can take some time this Monday morning to thank the Michigan Supreme Court for making it totally legal for officers to pull vehicles over when such adornments render the license plate unreadable.
In a court document that was file on March 29, 2016, the state's highest court ruled that, "a vehicle's registration plate and surrounding attachments [are] to be configured in such a manner that the plate is not partially or fully obstructed. The statute therefore prohibits a registration plate from being obstructed by an object attached to a vehicle."
And that includes those disgusting trailer hitch nutsacks as well as trailer hitches and any other towing equipment that obscures your license plate.
This ruling came in light of a the arrest of Charles Almando-Maurice Dunbar, who was pulled over by two Muskegon County sheriff's deputies when they misread his license plate because of his "towing ball."
According to court documents the officers said upon approaching the vehicle they smelled marijuana and subsequently performed a search that turned up, pot, cocaine, and a handgun.
The driver contested that the search was unconstitutional because the license plate was indeed legible, according to the law. And then the courts spent a whole lot of time deciding what the law actually means. 'Murica.
In the end the court decided, "that defendant violated [the law] because the towing ball attached to his truck partially obstructed the truck's registration plate from the view of police officers following him. The officers thus lawfully stopped defendant and, after smelling burnt marijuana from within the vehicle, lawfully discovered contraband."