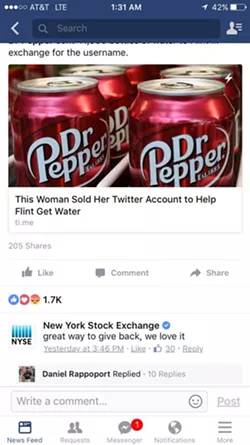 Earlier this week we reported on Dearborn resident
Diana Hussein's deal with Dr Pepper Snapple Group
for the twitter handle @DietDrPepper, which she created back in 2009. The company originally offered her swag for the handle, but she countered, asking them to donate bottled water to Flint instead.
Now, Hussein's story has gone viral with local and national news outlets across the country posting about the altruistic deal.
The Detroit Free Press
,
Detroit News
,
NBC Chicago
,
New York Daily New
s, ABC News,
TIME
and CNN have all reported on the trade that sent 41,000 bottles of water to Flint.
With all the attention the story is getting, it's possible more individuals and companies will be inspired to make similar donations.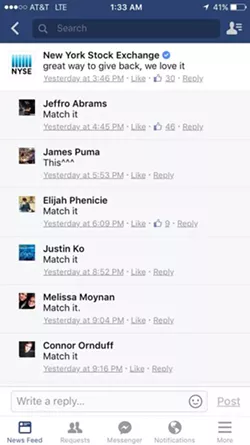 The New York Stock Exchange recently commented on TIME's post about Hussein's story and commenters jumped to ask (or perhaps demand) the NYSE match DPSG's donation.
One commenter asked for the NYSE to double the donation and send a whopping 82,000 bottles to the city.
We've reached out to the NYSE to see if they plan to match the donation, but have not received any word back.