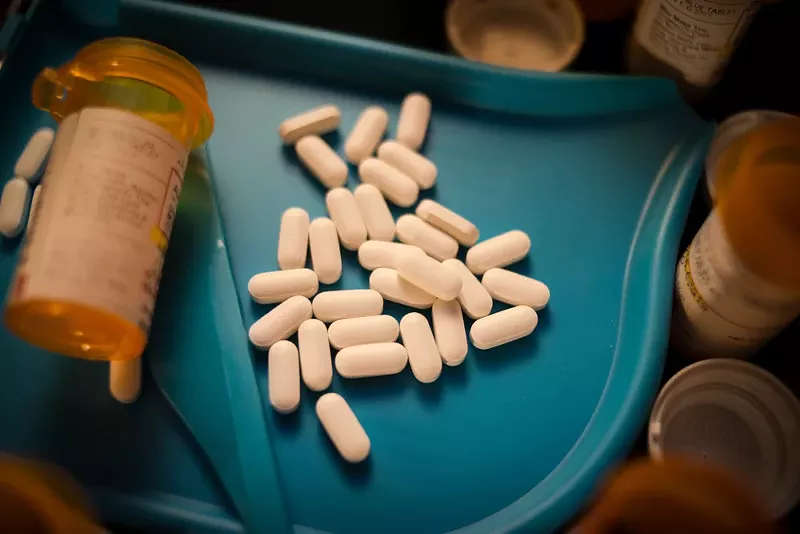 As the number of fatal overdoses from opioids continues to rise to alarming levels in Michigan, state lawmakers are hoping to empower county health officials to come up with solutions.
The state Senate on Thursday
introduced a bill
that would authorize county medical examiners or health officers to create an overdose fatality review team to investigate deaths.
The idea is to enable the teams to gather and analyze heath information without it being subject to public records laws, similar to how local health officials investigate the deaths of children and the elderly. That information would be shared with various public safety, health, and social service agencies with the goal of providing recommendations to curb future overdose deaths.
Similar review teams have been established in other states, including Arizona, Maryland, Delaware, Rhode Island, Virginia, Oklahoma, and West Virginia.
"In recent years, we have seen the rise of opioids in our communities, which has had a devastating impact on families across our nation," Sen. Sean McCann, D-Kalamazoo, who introduced the bill, said. "It has become abundantly apparent that Michigan needs the same tools established in places like Arizona, West Virginia, and Maryland to handle this rising crisis. We need to give Michigan's medical examiners and community stakeholders an opportunity to use their expertise to review these trends and develop solutions to this growing epidemic."
From 1999 to 2021, the number of opioid overdoses in Michigan increased from 118 to 2,809.
Fueling the rise is fentanyl, a synthetic opioid that is up to 50 times more potent than heroin, authorities says. It's often mixed with street drugs or counterfeit prescription drugs.
Between May 2022 and September 2022, the DEA and its partner law enforcement agencies
launched a crackdown on the synthetic opioid
and seized more than 75 kilograms of fentanyl powder and 88,000 fentanyl-laced pills in Michigan and Ohio — or enough to kill 4.7 million people.
"Fentanyl in pill form is a deliberate attempt by drug cartels to make illicit drug use more appealing to Americans," said Orville Green, special agent in charge of the DEA's Detroit Field Division. "Fake pills are especially concerning because the appeal they can have to an unsuspecting person. One may believe they are taking a legitimate pharmacy-grade pill pilfered from perhaps someone's medicine cabinet or stolen from a pharmacy. Far too often that isn't the case; many of the pills people buy on the street were haphazardly made in a clandestine lab — containing lethal dosages of fentanyl."
The creation of overdose fatality review teams will provide health officials with illuminating new information to reduce overdoses, said Joyce L. deJong, medical examiner and founding chair of the Department of Pathology of Western Michigan University Homer Stryker M.D. School of Medicine.
"Overdose fatality review teams work to assess risk factors and to identify gaps in access to harm reduction tools associated with these premature deaths," deJong said. "Providing counties with the ability to form these review teams will help guide mitigation strategies and assist the communities they serve with vital information about the arrival of novel substances."
Coming soon: Metro Times Daily newsletter. We'll send you a handful of interesting Detroit stories every morning. Subscribe now to not miss a thing.

Follow us: Google News | NewsBreak | Reddit | Instagram | Facebook | Twitter