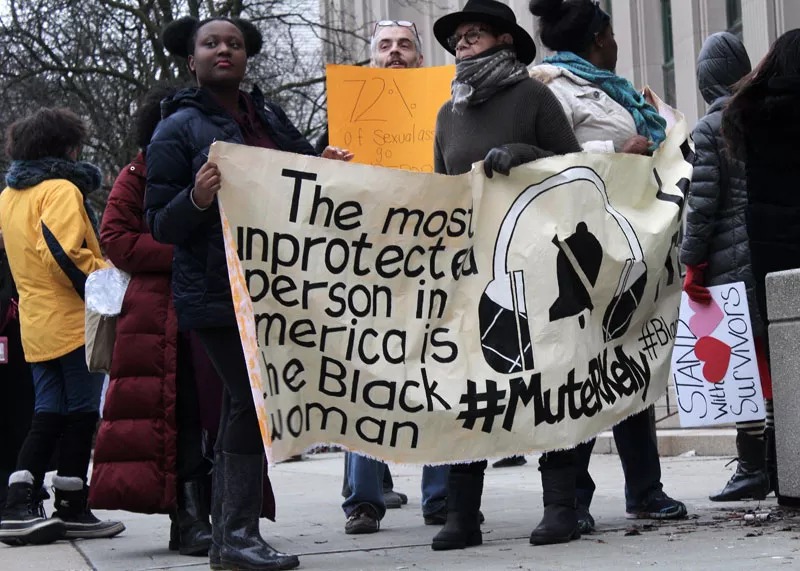 On the night of Wednesday, Jan. 9, singer R. Kelly took to a crowded club in Chicago's South Side to celebrate his 52nd birthday.
Several cellphone videos of varying quality began to circulate on the internet following the impromptu and quickly sold-out celebration — one of which revealed Kelly belting the lyrics from his 1994 hit "Bump & Grind" before cutting the music to offer a confession into the microphone:
"It's my motherfucking birthday and I don't give a fuck what's going on!" The crowd cheered.
It was just days after the recent airing of Detroiter dream hampton's six-part Lifetime documentary Surviving R. Kelly, which detailed allegations that Kelly, known as the "Pied Piper of R&B," had committed sexual assault and engaged in sexual relationships with multiple underage women for decades. Meanwhile, 10 miles north, dozens of people protested outside the embattled singer's studio, one of several properties where Kelly was alleged to be imprisoning young women as part of a now-highly publicized alleged "sex cult." (Kelly's lawyer has denied all of the allegations.)
The same day, Chicago building inspectors were sent to the studio to investigate a tip that the commercially zoned property had residential occupants. Cook County's State Attorney Kim Foxx, who had been in office during Kelly's child pornography trial in 2008, held a press conference to encourage victims and witnesses to come forward in hopes of strengthening the case against Kelly. In Atlanta, the Fulton Country District Attorney Office announced it had opened an investigation against Kelly. Meanwhile, a partygoer at Kelly's club celebration alerted the authorities of his whereabouts, claiming the alleged pedophile had a warrant out for his arrest. While the police confirmed that Kelly did not, in fact, have any active warrants and they were unable to make an arrest, the protesters demanded a different outcome:
"Save our girls," they said. "Mute R. Kelly."
The same day this high-profile drama played out, Motor City radio station 105.9 Kiss-FM played the late Aaliyah's "Age Ain't Nothing But a Number" — a song written and produced by Kelly for the then-15-year-old Detroit singer, whom he would secretly marry months after the album's release. Kelly, at the time, was 27.
Oronike Odeley, an Atlanta arts administrator and co-founder of the #MuteRKelly boycott campaign, says she believes the decision to play this song was no coincidence.
"To play 'Age Ain't Nothing But a Number' right now is a clear statement about where you stand on the issue, and what you think is important and how much you value these young black women and their stories," Odeleye tells Metro Times. "I think that should be met from the community with anger, because even if you support R. Kelly, age is more than a number. That's somebody naïveté, that is somebody's innocence, that is somebody's youth, that's somebody's mental well-being and mental health. So, playing that song, in particular, is egregiously insulting."

A resurgence of allegations against Kelly published in a
2017 BuzzFeed expose by Jim DeRogatis
, a
Chicago Sun Times
reporter who had covered Kelly's alleged sex crimes for nearly two decades, inspired Odeleye to pursue a petition to remove Kelly's music from Atlanta airwaves. It quickly gained traction, catching the attention of fellow Atlanta social justice activist Kenyette Barnes. Before long, #MuteRKelly became a national call for the industry to "financially divest" from Kelly to stop enabling the rapper's alleged problematic behavior. It has since become one of the biggest stories from the national #MeToo movement, which gained traction with explosive allegations of sexual abuse levied against other media titans like Hollywood producer Harvey Weinstein, Fox News executive Roger Ailes, actor Kevin Spacey, and comedian Bill Cosby, among many others.
Since Lifetime aired the doc, the #MuteRKelly campaign has gained even more prominence, demanding radio stations across the country to pull Kelly's music from their playlists. Some, like New York's WBLS and Los Angeles' KJLH, made the unceremonious decision months ago. Other platforms have taken a more aggressive stance on Kelly, like the music streaming giant Spotify, which made a formal move to distance itself from Kelly's music last year.
"His music will still be available on the service, but Spotify will not actively promote it," Spotify told Billboard. "We don't censor content because of an artist's or creator's behavior, but we want our editorial decisions — what we choose to program — to reflect our values. When an artist or creator does something that is especially harmful or hateful, it may affect the ways we work with or support that artist or creator."
Two weeks before Spotify made the call to suppress Kelly's music from its algorithmic playlists, Detroit hip-hop station 105.1 The Bounce made national headlines for announcing that it would no longer give Kanye West's music a platform on its morning program. The decision followed a series of erratic episodes, including a TMZ appearance in which the rapper suggested that 400 years of slavery seemed like "a choice" Africans made.
"We feel like Kanye has gone too far with his latest statement," the station announced on its Facebook page. "We don't want to hear Kanye's music, we don't want to play Kanye on our show, we don't want to talk about Kanye anymore. So, we are taking a stand and we aren't playing his music anymore; we just are refusing to give him a platform."
Despite the stance on West, the station has so far been quiet about Kelly. Neither program directors from Detroit's 105.1 The Bounce or 105.9 Kiss-FM returned emails or voicemails from Metro Times requesting comment as to whether they would continue to play Kelly's music, or if they were under the order of national radio conglomerates — iHeartMedia and Urban One, respectively — to continue to play Kelly's music. (Both conglomerates have remained silent so far.)
Many other stations across the country still appear to be supporting the alleged abuser. Rolling Stone reports that, as of last week, only three radio stations had publicly pulled Kelly's music from their rotation as a result of the revelations detailed in the Lifetime doc.
"Many of us were not aware of some of the deeper, darker details regarding the exploits of R. Kelly," George Cook, the program director of KKDA and KRNB, Dallas' leading hip-hop and R&B stations, told Rolling Stone. "We didn't want to be in a position where anyone was defending him. We all just came to the agreement that we're no longer going to support the music. It was not an easy decision, but I think it was the right one."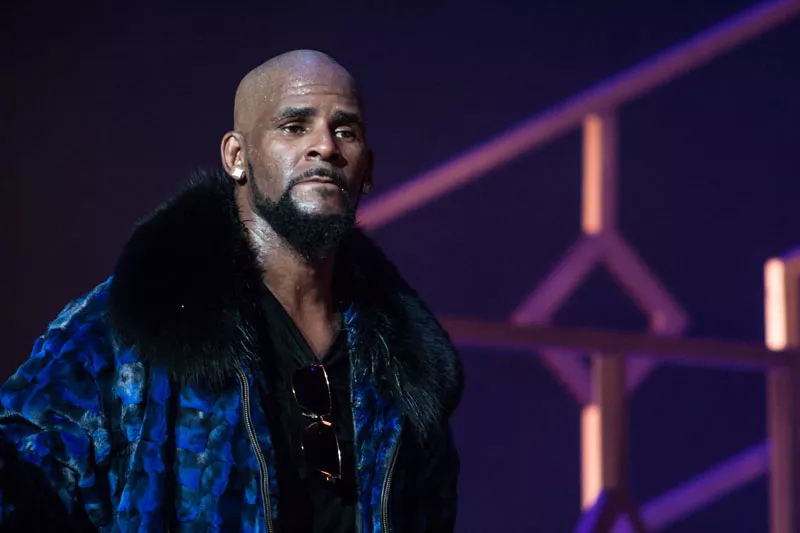 The difficulty in the decision to pull music by an artist who, as it stands, has 32 top 10 hits (and as Rolling Stone points out, even more as a "writer-producer-chorus-singer") was echoed when Billboard reported that Kelly's music saw a 116 percent spike across streaming services between Jan. 2 and Jan. 5 — the date of the final installment of Surviving R. Kelly aired. The spike generated upward of 4.3 million "on-demand streams."
According to Odeleye, the surge in streams is a perfect example as to why the #MuteRKelly campaign exists.
"That's part of our job in the campaign, to educate people about how all of this translates to dollars," she says. "Not everybody understands how the music industry works and how artists make their money. And so they think, 'Oh, I listen to him on the radio, that's innocent, that's innocuous, that didn't hurt anybody,' and they don't understand how radio spins equal money and what that means in terms of revenue. So, it's really trying to kind of connect those dots with people that none of this is innocent. Everything we do, every choice we make either puts money in his pocket or takes money out."
Kalimah Johnson — an activist and one of the lead organizers of #MuteRKelly's Detroit's chapter, who helped organize a protest of Kelly's Detroit 2018 concert at Little Caesars Arena — echoes Odeleye's sentiment that continuing to support problematic artists like Kelly enables him to continue his alleged abuse.
"[It] makes it so that he can make this kind of money so he can continue to carry out these atrocious acts toward women and girls," she says of Kelly's alleged behavior.
Johnson says she believes the defense of Kelly and continued demand for his music is a result of "cognitive dissonance."
"You have to face that you were, in some way, tricked by this man," she says. "You sang the songs, you danced to his songs. We got married to his songs. We sang 'I Believe I Can Fly' at church services. These songs were the soundtrack to a lot of our lives, and to some degree we want to protect that."
Johnson is the founder and executive director of the Sexual Assault Services for Holistic Healing and Awareness Center, or SASHA, a Detroit-based nonprofit that offers sexual assault support, community education, and outreach for the black community. Last year, Johnson created and released the SASHA model titled "Black Women's Triangulation of Rape," which identifies victim-blaming and rape culture as a result of larger systems of racism, sexism, bigotry, and patriarchy. The peak of the pyramid represents demoralization and exploitation of black women and girls. The base of the pyramid details the institutional barriers that keep black women silent.
'You have to face that you were, in some way, tricked by this man... These songs were the soundtrack to a lot of our lives, and to some degree we want to protect that.'

tweet this
Johnson says the model serves as a visual aid that explains why much of the black community, as well as those victimized by sexual assault, would continue to rally behind Kelly's music.
"We have rapists among us every day," Johnson says, noting that only an estimated 2 percent of sexual assaults end in convictions. "In order for us to feel safe, we have to act distanced from it. If we keep buying the music, people think they're not a part of it. It's a distance thing we do between the music and the artist, and it's a distance thing we do between ourselves and victims. The further we distance ourselves from experience and accusations, the more we can live our lives without any disruption."
Since the Lifetime series aired, several artists have issued statements condemning their previous creative involvements with Kelly and his alleged misconduct and abuse. Meek Mill, Future, Ne-Yo, and Chance the Rapper have all since taken a stand against the artist, as has Lady Gaga,who issued an apology for her 2013 collaboration "Do What You Want (With My Body)" — a move Kelly's attorney Steve Greenberg called "regrettable," suggesting that her decision to remove the track from streaming services was merely a way to better her chances at an Academy Award for her role in last year's A Star Is Born. The apology followed backlash to the fact that Gaga, a longtime advocate for sexual assault survivors and a self-described sexual assault survivor herself, was among a list of collaborators who refused inclusion in the Lifetime doc, which offered commentary and criticism from singer-songwriter John Legend, reportedly the only high-profile singer who would go on the record for hampton.
"To everyone telling me how courageous I am for appearing in the doc, it didn't feel risky at all," Legend tweeted. "I believe these women and don't give a fuck about protecting a serial child rapist," he says of Kelly's alleged behavior. "Easy decision."
The most recent and perhaps most powerful comments were that of Kelly's estranged daughter, Buki Abi (born Joann Kelly), who also broke her silence on social media, calling her father a "monster."
"I am well aware of who and what he is," she said on Instagram. "I grew up in that house."
For Kelly, that tone of defiance he displayed on his birthday appears to be fading. Late last week, outlets began reporting on Kelly's rumored plans to flee the country, and that the singer was now experiencing panic attacks as a result of the blowback. As of press time no arrests have been made. (On Friday, Billboard reported Sony had quietly dropped Kelly from its roster.) Tensions continue to build, however, as a second protest outside of the singer's studio resulted in a clash over the weekend between #MuteRKelly protesters and a caravan of Kelly supporters blasting his music from car windows. One man, armed with a megaphone, pleaded for Kelly's forgiveness, claiming that "God is his judge." Meanwhile, variations of "R. Kelly" and "R. Kelly sex tape" are currently trending searches across top porn sites.
Odeleye says that she and her #MuteRKelly partner are overwhelmed by the national outpouring of support, and believes that the tide is undoubtedly turning in the favor of those who want Kelly brought to justice.
"A lot of people have said that they really had no idea that this movement was going on, that they had been boycotting R. Kelly since the '90s since those allegations came out, and that they're glad to be able to kind of fly the flag under the banner of #MuteRKelly now to add some legitimacy to what they've already been doing," she says. "So, that's been wonderful to see because when you're in these silos, you think nobody's doing anything about this. And then to see that no, people are doing stuff all around the nation, it makes me feel not so lonely."
She's quick to add that the work is far from over, and that the mission remains the same as it did on day one: Remove R. Kelly from the airwaves.
"We're going to keep pressuring the radio stations until they do," she says. "We want to just know where they stand. ... They're going to have to say something to us one way or the other."
Stay on top of Detroit news and views. Sign up for our weekly issue newsletter delivered each Wednesday.