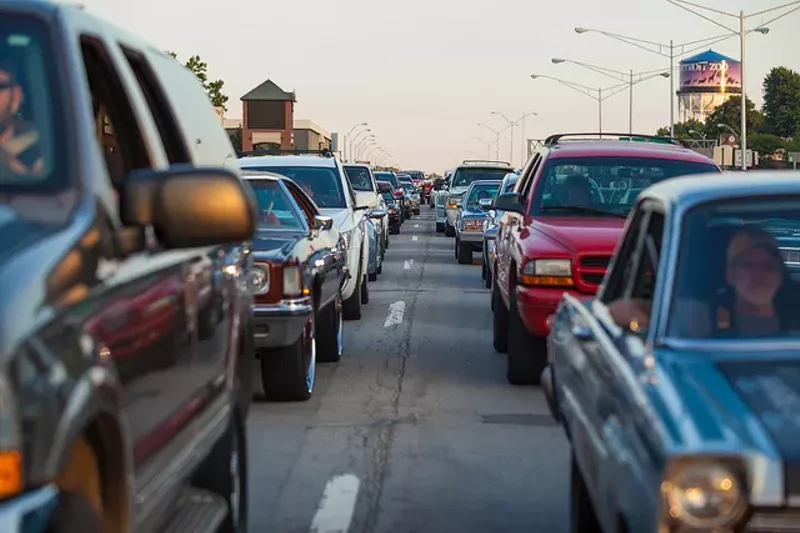 Once again, metropolitan Detroit is gearing up for the annual Dream Cruise, the weekend when tens of thousands of automobile aficionados parade the 16-mile stretch of Woodward Avenue in Oakland County (as well as scores of unwilling participants who either forgot to or couldn't plot an alternate course).
The Dream Cruise is a big ordeal — founded in 1995, it's now practically a regional holiday. Classic cars can be spotted along the stretch weeks before the Cruise officially starts, with people staking out viewing spots and setting up lawn chairs before Saturday.
So last year, while stuck in Dream Cruise traffic, an idea entered my exhaust fume-addled brain: What would the carbon footprint of such an event be?
I did what I always do whenever I have a car question. I emailed my dad.
My old man, who warned me not to do this story ("people in the metro Detroit area will come down hard on you"), said the key would be to figure out what percentage of Dream Cruise cars were built before the mid-1970s. That's when the Environmental Protection Agency began to issue more stringent emissions targets, and new cars were built with catalytic converters to lower pollution.
A Dream Cruise spokesman says between 40,000 and 50,000 classic and rare cars participate in the Cruise. They declined to give precise
figures,
but estimated that "a majority" of the Cruise's cars are pre-1974.
We then reached out to
Shelie
Miller, an associate professor at the University of Michigan's School of Natural Resources and Environment, to help us with the math.
According to Miller's calculations, the Woodward Dream Cruise has a carbon footprint of roughly 400 metric tons of CO2 — or approximately the same as what 20 U.S. households consume in an entire year.
Put another way, that's 720,000 miles of
driving,
or 60 times what a single car drives in a year.
"I was surprised it was that high," Miller says. "The fact that it's the equivalent of driving 60 times what one person would put on their car in one year, that seems pretty significant to me."
For the model, Miller assumed 45,000 cars were driving 16 miles, which represents the distance from Ferndale to Pontiac (so not counting anyone driving the full loop). She assumed a fuel efficiency of 13.5 miles per gallon (the average fuel economy of cars from 1975
),
and emissions of 17.6 lbs. CO2 per gallon (based on fuel that is 10 percent ethanol).
And that's on the conservative side. It doesn't consider emissions from people transporting their classic cars to Detroit from out of the state or the country, or any additional driving they may do. If you consider instead 50,000 cars, with everyone driving the full loop, all with fuel economies on the low end (say, 10 m.p.g.) and using 100 percent gasoline, the carbon footprint could be as high as 1,400 metric tons of CO2.
But Miller says it's important to note that these figures highlight the big gains that have been made in fuel economy and emissions standards since the 1970s.
"If it were today's cars, you'd be talking more like 200 metric tons," she says. "If we were driving 50 miles per gallon, which is the proposed rule, you'd only have 100 metric tons. So you can see how advances in things like regulations actually are improving things for the good."
The EPA has a household carbon footprint calculator
here
.

Stay on top of Detroit news and views. Sign up for our weekly issue newsletter delivered each Wednesday.