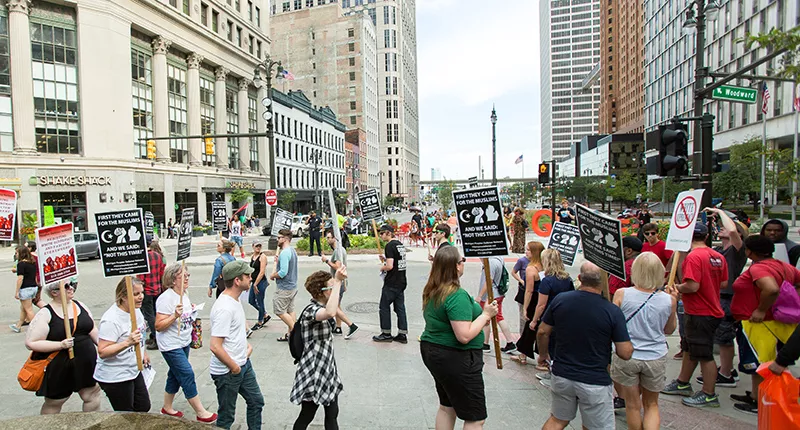 More than a hundred people descended onto downtown Detroit's Campus Martius Park on Sunday to protest
Saturday's right-wing attack on peaceful protesters
in Charlottesville, Virginia.
A coalescence of numerous community groups, the demonstration was a sign of solidarity for Heather Heyer, the woman killed by a right-wing extremist who drove his vehicle into a crowd of peaceful protesters, as well as others who were injured in Charlottesville.
Michigan Peoples Defense Network (MPDN) set up and ran the event, and Detroit's chapter of Democratic Socialists of America (DSA) was the other main presence.
"We're [...] here to stand in solidarity with our comrades of all backgrounds and sexual orientation," a DSA statement handed out at the event read. "To organize against fascist ideas and the current state of American capitalism, knowing a better future IS POSSIBLE and that we can create a more equitable, democratic, and sustainable society."
The protesters chanted and marched, garnering attention and support from some of those eating at Campus Martius' nearby restaurants. Police stood nearby watching, not getting involved or speaking to any of the organizers or protesters. A few times, energy seemed to fizzle a bit with some protesters waiting for clear directives from MPDN organizers, but overall morale was high throughout the hour and a half event.
The Detroit event was one of more than 100 solidarity marches held across the country. See a slideshow of 28 images from Sunday's protest
here
.