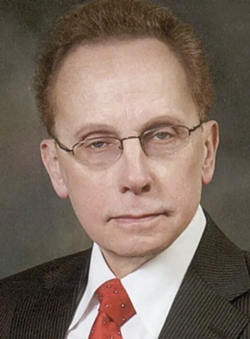 Mayor Jim Fouts of Warren is calling a recently released recording in which he can be heard using a gay slur "a phony tape."
The recording, supplied by an anonymous source and former city employee, surfaced Tuesday as part of an investigation by
Deadline Detroit
. Fouts, who is gearing up for a 2019 re-election bid as Mayor of Michigan's third largest city, can be heard using the word "fag" and comparing the local media's attempt to disclose his real age as being "raped."
In an
excerpt of the obtained recording
, Fouts rails against the media, saying: "[This] is personal to me, just like being a 'fag' is personal to somebody, being fat is personal to somebody, being a, uh, a dimwit is personal to somebody. That is personal to me. It is very – it's like I've been
raped
,
like I've been accosted. Then the goddamn
Warren Weekly
…"
According to the report, the tape was recorded in secret in 2011, when Fouts faced backlash for having allegedly lied about his age on election documents. The age discrepancy resulted in a lawsuit as an attempt to keep him off the ballot.
"I was a sent a copy of it, and it's clearly more of the same," Fouts told
The Free Press.
"It's another phony, manipulated, manufactured, out-of-context — it's just a phony tape."
This is not the first time the three-term seeking mayor has been the subject of recorded controversial comments. In 2016, Fouts denied the authenticity of
a series of recordings
taken by a staffer and released by Macomb County Executive Mark Hackel, on which he can be heard referring to the mentally disabled as "retards" and "not even human beings."
Fouts continued to tell
The Free Press
regarding the most recent recordings, that, once again, he is a victim of a politically driven smear campaign that overshadows his track record as Mayor.
"Everything I focus on is serving and protecting the citizens of Warren," he said. "I think we're the most successful city in the metro area, and obviously, there (are) some people who like to detract from that, and that's why they come up with the phony tapes. We've got an election coming up."
Stay on top of Detroit news and views. Sign up for our weekly issue newsletter delivered each Wednesday.