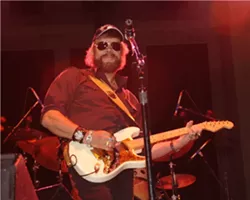 Hank Williams Jr. fans are back at it again. Over the weekend sheriff's deputies were called to the singer's (who's famous for tunes such as "All My Rowdy Friends Are Coming Over Tonight," heh heh) concert at DTE Energy Music Theatre in response to some, well, rowdiness.
On Saturday night, Oakland County sheriff's deputies said they were responding to a call about a drunk and disorderly person and as they approached, a 22-year-old man allegedly punched a deputy in the face.
Then, deputies say the man's father jumped in, placing one of them in a chokehold. Deputies used a Taser to subdue the younger man and additional deputies aided in getting the father under control, according to
reports
.
Both men are being held in the Oakland County Jail.
And wait, we're not done!
A few minutes later at the show, deputies also responded to a "highly intoxicated man" who allegedly assaulted an 18-year-old female DTE guest services employee.
According to a report, when the young woman asked to see the man's ticket, he pushed her, hit her with his elbow and then "grabbed her by the breast and ... dragged her around."
Not quite sure what that means, but it sounds terrible. That man was taken to Oakland County Jail pending charges.
This isn't the first time violence broke out at a Hank Williams Jr. show. As some may recall, two years ago a 55-year-old Westland man was allegedly pushed to the ground by a teen during a concert and struck his head on concrete.
He later died from his injuries and the death was ruled a homicide
.
So maybe
banning blankets isn't the best way to prevent danger at DTE?