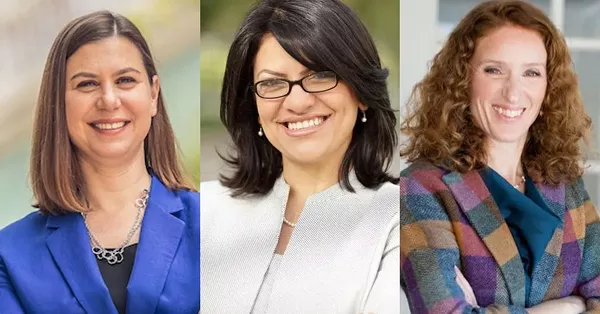 If money means anything this early into the primary election season, Michigan's Congressional delegation may look a lot more female come next year.
Three Democrat women running for U.S. House seats raised the most money of any Congressional candidates in the state last quarter, according to campaign finance reports filed with the federal government by this week's deadline.
The news comes after
Michigan Democrats endorsed female candidates
for two of the top three state-level offices at a convention last weekend, and as the party's lone female candidate for governor leads in polls and endorsements.
The money for the Congressional candidates came from across the country and Michigan. Rashida Tlaib, who is vying for the 13th District spot left vacant by John Conyers, pulled in $589,000 between Jan 1. and March 31; Ellen Cogen Lipton, who is hoping to replace Congressman Sander Levin in the 9th District, raised $501,000; and Elissa Slotkin, who is running against Republican Mike Bishop in the 8th District, brought in $801,000. They're among 20 Congressional candidates from Michigan who've raised more than $500,000 so far, according to
data compiled by the Michigan Campaign Finance Network
.
The latest batch of donations puts each of the candidates well ahead of, or in line with, their closest opponents in terms of fundraising.
In the 13th District race, where about 10 people have indicated they will run, Tlaib has outraised her closest opponent by a roughly 5-1 margin.
"The motivation for people across the country to support me as a Muslim and a progressive has been, 'If we want to send a message to Trump and his supporters, it's to send you to Congress,'" says Tlaib.
Tlaib is a former state representative from Detroit who has
fought polluting corporations
and
tax breaks for billionaires
. Her views, which include support for single payer healthcare, are in generally in line with those of Conyers. Her contributions, she says, have come from 1,7000 different sources, putting the average donation at about $350.
But the battle for Michigan's 13th District is contentious, and Tlaib, who is Arab-American, will have to overcome major hurdles like name recognition and racial bias in order to win. The district, which covers parts of Detroit and suburban Wayne County, is majority African-American and has drawn at least five black candidates. Two of those candidates — John Conyers III and Ian Conyers — are related to the former Representative and have the benefit of name recognition. Detroit City Council President Brenda Jones, who has been endorsed by Mayor Mike Duggan, is also seen as having a strong shot at winning, and Detroit mayoral candidate State Sen. Coleman Young II has also entered the race. Westland Mayor Bill Wild, meanwhile, may have a shot at picking up the district if he consolidates support among suburbanites while the African American vote splits between his opponents.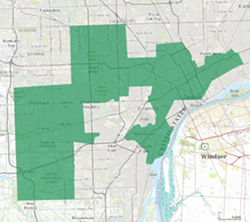 In light of those dynamics, Tlaib has said she is determined to run the most aggressive door-to-door campaign of any of her opponents.
"We're not underestimating the importance of direct human contact," she says. "It's important that the voters have some contact with and recognize the people who they're voting for on the ballot."
As for race, she thinks she can break through with all voters based on "how I make them feel and my sincerity about wanting to protect them and to serve them."
Tlaib's closest competitor in terms of fundraising, meanwhile, is Wild, who has raised $139,000. Ian Conyers has raised $88,000. Brenda Jones has raised $39,000 and Coleman Young II has raised close to $16,000. John Conyers III, who is 27 years old and has no political experience, is in the hole $600.
The race in Michigan's 9th has some parallels to that of the 13th in that Andy Levin, Sander Levin's son, is seen as having a good shot at winning. The roughly $500,000 Lipton raised in the first quarter of this year puts her in line with his fundraising totals.
In Michigan's 8th meanwhile, Elissa Slotkin is widely expected to make it on the November ballot to take on Bishop. She recently moved back to Holly after holding various intelligence and national defense posts in Washington, and has picked up support from former Vice President Joe Biden. Slotkin has
outraised Bishop
in each of the last three quarters.
Stay on top of Detroit news and views. Sign up for our weekly issue newsletter delivered each Wednesday.