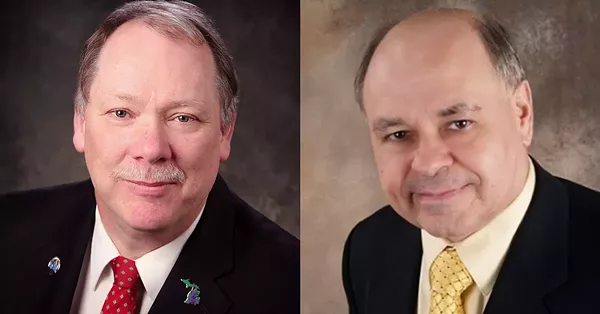 The race for Michigan's first-ever Libertarian gubernatorial primary is heating up.
On Thursday, candidate John Tatar filed his campaign's petition signatures for the primary, becoming the second candidate to officially join the gubernatorial Libertarian race. It's the first time in Michigan's history that a party beyond the Democrats and Republicans will host a contested gubernatorial primary election. The Libertarian Party primary will be held alongside the Democrat and Republican primaries on Aug. 7.
Tatar follows Grand Rapids businessman Bill Gelineau,
who filed his petition signatures
last month ahead of the April 24 deadline. According to a press release from the Libertarian Party of Michigan, Tatar filed 18,521 signatures to the Bureau of Elections, while Gelineau delivered 21,187 signatures. Candidates need 15,000 valid signatures to qualify.
According to
his website
, Tatar is a 69-year-old divorced retired US Army Reserve Lt. Colonel, construction contractor, and school teacher from Redford. As far as the issues, the first topic listed on Tatar's
page
is utility smart meters, which Tatar believes have led to higher rates, electromagnetic field-induced illness, and surveillance.
As far as more mainstream topics, Tatar wants to end gerrymandering, which he says "provide[s] an unfair advantage between the parties and it eliminates a true voice of the people." He also calls for auto insurance reform, pledging to eliminate mandatory no-fault insurance and unlink auto insurance from credit reports and residence.
One of Tatar's more interesting proposals calls for eliminating the Michigan Senate.
"Michigan was once a unicameral State, representatives only," he writes. "There has been no advantage since 1963 for a bicameral house of legislature other then enormous taxes and higher expenditures. A part-time legislature is adequate to carry on the day to day functions of government."
Michigan will host a Libertarian primary this year because of the party's strong polling numbers in the 2016 presidential election, where Libertarian presidential candidate Gary Johnson earned 172,136 votes, or 3.6 percent, surpassing the 154,040-vote threshold necessary for his party to participate in the 2018 primary.
"In a Republic, the people are in charge. Not the politicians, public servants, or corporations, but We the People," Tatar writes on his site. "The politicians of today are 'Usurpers,' because they have assumed powers that we did not delegate to them in the Constitution. It is time to stop them. I will stop them."
Stay on top of Detroit news and views. Sign up for our weekly issue newsletter delivered each Wednesday.