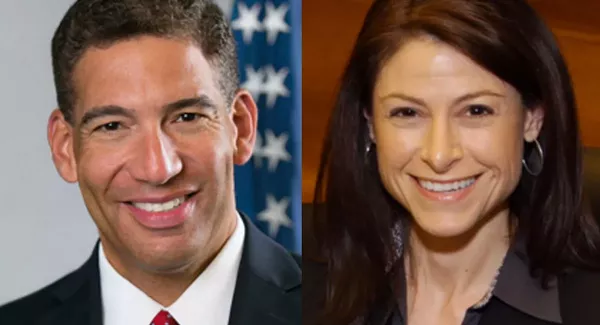 A former U.S. attorney appointed by Obama has picked up a key endorsement in the Democratic race for attorney general, further tightening a battle between a centrist and progressive with just a week to go until the Democrat endorsement convention.
The UAW threw its support behind candidate Pat Miles Thursday. The other leading Democrat candidate for attorney general, Dana Nessel — a progressive known for arguing a landmark same-sex marriage case — has support from the state's other big union, the Michigan Education Association.
Miles is the former U.S. attorney for the Western District of Michigan and now works in private practice. The UAW's support for him comes as a bit of a head-scratcher, because the Grand Rapids law firm where he is currently employed represents employers in labor disputes and literally has a tab on its website called
"union avoidance."
Clicking the tab reveals that one of the successful battles waged by Miles' firm was against the UAW.
We have an extensive team of legal professionals that offer creative solutions and innovation, aimed at engaging clients in union avoidance activities prior to the formation of an actual campaign. We estimate our team has helped manage hundreds of union organizing attempts and/or campaigns, and our clients have obtained favorable results in more than 96% of the campaigns in which we have been involved. Our team has also helped companies avoid hundreds of campaigns across the country, including UAW, Steelworkers, Teamsters, CWA, IBEW, UFCW, UNITE-HERE, IAM, AFTRA, SEIU, The Laborers, GMPP, Sheet Metal Workers, 1199, just to name a few.
Miles has sought to distance himself from the firm's record, telling the
Free Press
, "I don't support anti-union work and would never do it."
Miles and Nessel have traded barbs in the race, with Nessel painting Miles as a flip-flopper trying on progressive views to score political points, and Miles pointing out a possible error in campaign finance reporting by Nessel.
In March, Miles followed Nessel in expressing support for marijuana legalization when he'd previously been tight-lipped on the issue. He seemed to also evolve his position on civil asset forfeiture — right in the middle of an interview with Michigan Radio. His record has prompted
Bridge Magazine
to run a story headlined
"Counting the flips by Michigan AG candidate Pat Miles."

Miles, meanwhile, this week filed a campaign finance complaint against Nessel saying she failed to include information about fundraisers in her reports.
The Democratic endorsement convention will be held next Sunday, and the UAW endorsement is sure to give Miles a major boost.
"The UAW brings a lot of party members and has the ability to get folks to the endorsement convention," Michigan Democratic Party chair Brandon Dillon told the
Free Press
. "Historically, that's been the indicator of who gets the nomination, but a lot of new people have signed up. It's certainly a major endorsement for whoever gets it, but it's going to be a close race."
Stay on top of Detroit news and views. Sign up for our weekly issue newsletter delivered each Wednesday.