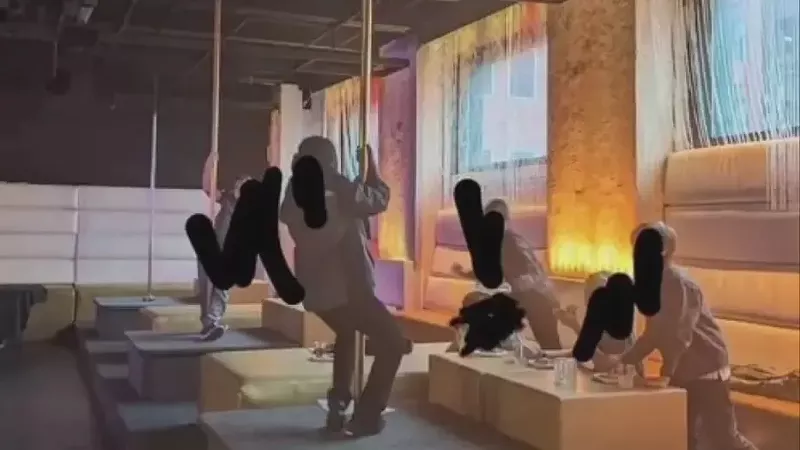 Karens are losing their minds after a photo surfaced showing sixth-graders playing on dance poles at Niki's Lounge in Detroit.
According to Fox 2 Detroit, the Rochester Communities school district students were on a field trip in November visiting the Detroit Symphony Orchestra when the chaperones decided to swing by Niki's Pizza in Greektown for lunch.
Since Niki's Pizza was at capacity, the kids — about 140 of them, and about 30 chaperones — were moved to the attached Niki's Lounge, a connected nightclub that features dance poles as part of the decor.
That's when they started doing what probably any kid would do if they saw what looks like regular playground poles — play on them.
According to Fox 2, the kids were "pictured practicing pole dancing" at the club. We think that's probably a bit of a stretch. These kids likely don't even know what a stripper is — and even if they do, who cares?
Besides, as the owner of Niki's Pizza points out to Fox News, Niki's Lounge isn't "a strip joint" — despite Rochester School Board member Andrew Weaver describing it to the news station as an "adult establishment."
"The environment is inappropriate for students," Weaver said. "This is not a place where we should have students on a sanctioned school trip."
Weaver is calling on an investigation of the school for what he calls "poor judgment."
We think everyone needs to chill. Pole dancing is both an art form and an athletic feat, and has been embraced by popular artists like FKA Twigs, who learned to pole dance for a music video. Twigs called learning how to pole dance "one of the hardest things I've ever done."
Coming soon: Metro Times Daily newsletter. We'll send you a handful of interesting Detroit stories every morning. Subscribe now to not miss a thing.

Follow us: Google News | NewsBreak | Reddit | Instagram | Facebook | Twitter