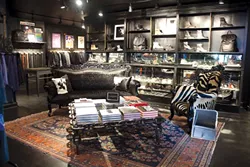 Read the full list of Best of Detroit 2017 Best Retail and Services winners here.

I recently visited the North End Collective in Detroit, a shared-space boutique that's home to the Traveling Pants Company, Purple Love, Bath Savvy Naturals, and UnitedFront. Each of the businesses is owned by a woman of color. The space itself is curated by Midtown Inc. — they own and manage the building — but the women are the heart and soul of the business.
When I met with the women of North End Collective — Jordette Singleton, Brittany Chanel, Deidra Hogue, and Shannon Reaves — they seemed like a tight-knit group whose dynamic is built on empowering one another, leaning on each others' strengths, and just having fun. Other than Reaves, each of the women also holds down a full-time 9-to-5. Their hustle is admirable. It's a hustle we see mirrored in countless locally owned enterprises in Detroit's bustling shopping scene.
OK, some of you may take issue with that last sentence. Maybe you're not so keen on that word, "bustling." But, as someone who's written about shopping in Detroit for the last five years, I can tell you things have dramatically improved.
In Eastern Market, places like Rocky's, Eastern Market Antiques, and Savvy Chic have thrived, creating an environment conducive to new shops like Detroit vs. Everybody, the Detroit Mercantile Co., 3 Dogs 1 Cat, and Germack Coffee Roasting Co. Late last year, Cyberoptix TieLab owner Bethany Shorb opened a boutique called Well Done Goods on the same block as Trinosophes and Antietam, adding even more appeal to the shopping and dining destination that is Eastern Market.
Meanwhile, on Cass Avenue in Midtown, another shared-space boutique called Cass Collective is the latest to open on a block that's home to La Feria, Thrift on the Avenue, Treat Dreams, Avalon International Breads, Tulani Rose, the Spiral Gallery, Source Booksellers, and more. Just around the corner, you'll find two high-end corporate stores — Shinola and Filson — mirroring locally owned lifestyle boutiques City Bird and Nest.
As of late, downtown Detroit has attracted national businesses like Warby Parker, Nike, and Moosejaw. A cruise down Woodward will take you to Kit and Ace, John Varvatos, and a new Bonobos shop — all of these shops opened within the last three years. Travel farther down Woodward and you'll find Rachel Lutz's Peacock Room and sister store Frida inside the Park Shelton, along with Busted Bra Shop.
In Corktown, Eldorado General Store, opened in 2014, helped pave the way for newer shops like Detroit Artifactry and Mama Coo's Boutique. Each of these shops sells a collection of both new and used items — some are locally crafted, and some were handpicked from vendors on cross-country merchandise-finding expeditions. Each are owned and operated by a woman who's realized her retail dreams in a downtrodden city that's continuously finding ways to make reveries reality.
As Detroit's retail offerings continue to expand, those in the suburbs aren't shrinking. This year voters named Birmingham the Best Downtown Shopping District, and there is no questioning the well-curated nature and upscale provisions available in the area. With shopping, dining, two movie theaters, a yoga studio, practically famous bridal shops, jewelry shops like Mount-N-Repair, Astreins, and more, the stretch of Old Woodward and connecting thoroughfares are ripe with activity. Shopping districts such as these are integral to a thriving local economy: They add to the beauty of metro Detroit's retail offerings. There's really no need for competition among them.
Outside of the world of boutiques (the world I prefer to live in), Michigan is home to the manufacturing of products like Better Made Potato Chips, Faygo, Garden Fresh, and Vernors, all of which contribute to our retail and services economy. We have a thriving record store community with tendrils reaching across the metro area. It includes shops like Dearborn Music, Found Sound in Ferndale, Melodies and Memories in Eastpointe, Encore Records in Ann Arbor, Hello Records in Corktown, Underground Sounds in Ann Arbor, and UHF in Royal Oak, plus many more.
Decades ago, our economy was built on the financial might of automotive companies, but these days that's shifting. That's apparent when we analyze a list of this year's Best of Detroit winners. Sure, there are a few corporate names present. Kroger did win best grocery store. However, we're inspired to see folks loving on (and voting for) independent businesses whose cornerstone is nothing more than blood, sweat, and tears shed by passionate entrepreneurs — not just those who are new, but those who've stood the test of time.
John K. King Used & Rare Books is a perennial Best of Detroit winner. The towering monolith on W. Lafayette Blvd. is a staple in this city, garnering national attention for its strange and enormous stock of used and rare books. It's the kind of place wide-eyed young college students marvel at and old Detroiters treat with a special reverence. King has expanded and shrunk, but it's managed to hold on, to persevere despite economic upheval, changing tastes, and, hell, even the internet.
It's an endgame of sorts, something businesses owners can aspire to — dogged integrity and endurance.
Best Appliance Store
ABC Warehouse
15253 Michigan Ave., Dearborn; 313-584-5300; abcwarehouse.com
Best Attorney
Geoffrey Fieger
19390 W. 10 Mile Rd., Southfield; 248-558-2315; fiegerlaw.com
Best Auto Repair
Wetmore's
23459 Woodward Ave., Ferndale; 248-544-2100; wetmorestireandautorepair.com
Best Bicycle Shop (Macomb)
Macomb Bike & Fitness
28411 Schoenherr Rd., Warren; 586-756-5400; macombbike.com
Best Bicycle Shop (Oakland)
Downtown Ferndale Bike Shop
163 W. 9 Mile Rd., Ferndale; 248-439-1892; downtown-bikeshop.com
Best Bicycle Shop (Washtenaw)
D&D Bicycles and Hockey
3780 Jackson Rd., Ste. J, Ann Arbor; 734-707-0130; ddbicyclesandhockey.com
Best Bicycle Shop (Wayne)
Metropolis Cycles
2117 Michigan Ave., Detroit; 313-818-3248; metropoliscycles.bike
Best Bookstore in Detroit
John K. King Used & Rare Books
901 W. Lafayette Blvd., Detroit; 313-961-0622; rarebooklink.com
Best Bookstore in the Suburbs
The Book Beat
26010 Greenfield Rd.,Oak Park; 248-968-1190; thebookbeat.com
Best Comic/Collectibles Shop
Comic City
42727 Ford Rd., Canton; 734-981-3561; comiccity.com
7366 Haggerty Rd., West Bloomfield Twp.; 248-592-3049
466 N. Telegraph Rd., Pontiac; 248-334-4139
3410 West Rd., Trenton; 734-692-7060
Best Consignment Shop
ReDesign Home
32801 Woodward Ave., Royal Oak; 248-439-6040; redesignhomeconsignment.com
Best Dentist
Dr. Dipilla
600 N Old Woodward Ave., #201, Birmingham; 248-646-0442; drdipilla.com
Best Detroit Brand
Detroit vs. Everybody
400 Monroe Ave., #340, Detroit; 313-638-2980; detroitvseverybody.com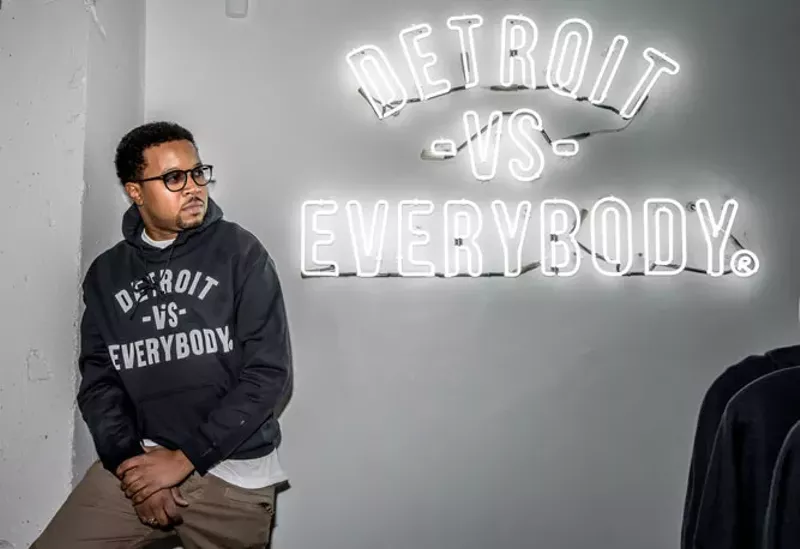 Best Downtown Shopping District
Birmingham
151 Martin St., Birmingham; allinbirmingham.com
Best Engagement or Wedding Ring
Tapper's Diamonds and Fine Jewelry
2800 W. Big Beaver Rd., Troy; 248-649-2000; tappers.com
6337 Orchard Lake Rd., West Bloomfield Twp., 248-932-7700
Best Eyewear
SEE
160 S. Old Woodward Ave., Birmingham; 248-723-1900; seeeyewear.com
Best Eyewear Boutique
Optik
247 W. Maple Rd., Birmingham; 248-646-6699; optikbirmingham.com
Best Farmers Market (Macomb)
Mount Clemens Farmers Market
135 N. River Rd., Mount Clemens; 586-493-7600; mountclemensfarmersmarket.com
Best Farmers Market (Oakland)
Royal Oak Farmers Market
316 E. 11 Mile Rd., Royal Oak; 248-246-3276; romi.gov
Best Farmers Market (Washtenaw)
Ann Arbor Farmers Market
315 Detroit St., Ann Arbor; 734-794-6255; a2gov.org/departments/Parks-Recreation
Best Farmers Market (Wayne)
Eastern Market
Eastern Market, Detroit; 313-833-9300
Best Flea Market
Dixieland
2045 Dixie Hwy, Waterford; 248-338-3220; dixielandfleamkt.com
Best Gift Boutique
The Rocket
23147 Woodward Ave., Ferndale; 248-556-5084;
122 W. Michigan Ave., Ypsilanti; 734-483-2291 shoptherocket.com
Best Grocery Store
Kroger
Various locations; kroger.com
Best Grow Shop (Macomb)
Cultivation Station
46912 Gratiot Ave., Chesterfield; 586-949-7453; tcs-hydroponics.com
Best Grow Shop (Oakland)
Northern Lights
29090 N. Campbell Rd., Madison Heights; 248-439-6269; northernlightshydro.net
Best Grow Shop (Washtenaw)
The Grow Show
4095 Stone School Rd., Ann Arbor; 734-677-0009; thegrowshow.org
Best Grow Shop (Wayne)
Hydro Giant
21651 W. 8 Mile Rd., Detroit; 313-387-7700; hydrogiant.com
Best Gym (Macomb)
Snap Fitness
42918 Schoenherr Rd., Sterling Heights; 586-532-7800; snapfitness.com
Best Gym (Oakland)
Planet Fitness
288 John R Rd., Troy; 248-588-0141; planetfitness.com
Best Gym (Washtenaw)
Washtenaw Health and Fitness
4833 E. Huron River Dr., Ann Arbor; 734-975-9950; wccfitness.org
Best Gym (Wayne)
Fitness Works
6525 2nd Ave., Detroit; 313-972-4040; fitnessworksclub.com
Best Hardware Store
Detroit Hardware Co.
6432 Woodward Ave., Detroit; 313-875-0838; detroithardwareco.com
Best Insurance Agent
Mark Swieczkowski
Troy; 800-836-8842; mipia.com
Best Jewelry Repair
Mount-N-Repair
205 Pierce St., Birmingham; 248-647-8670; mountnrepair.com
Best Jewelry Store
Astrein's
120 W. Maple Rd., Birmingham; 248-644-1651; astreins.com
Best Local Modeling Agency
7 Stone
4 N. Saginaw St., Pontiac; 734-845-9950; 7stonemanagement.com
Best Local Shopping Experience
Eastern Market
Eastern Market, Detroit; 313-833-9300
Best Local T-shirt Company
Detroit vs. Everybody
400 Monroe Ave., #340, Detroit; 313-638-2980; detroitvseverybody.com
Best Men's Clothing
John Varvatos
1500 Woodward Ave., Detroit; 313-437-8095; johnvarvatos.com
Best Michigan Made Product
Better Made Chips
10148 Gratiot Ave., Detroit; 800-332-2394; bettermadesnackfoods.com
Best Movie Theater
Emagine
Various locations; emagine-entertainment.com
Best Moving Company
Men on the Move
12400 Merriman Rd., Livonia; 734-744-9547; michiganmovers.com
Best New Business
Third Man Records
441 W. Canfield St., Detroit; 313-209-5205; thirdmanrecords.com
Best Pawn Shop
American Jewelry & Loan
546 N. Telegraph Rd., Pontiac; 248-409-5626; pawndetroit.com
Best Pet Supply
Pet Supplies Plus
Multiple locations; petsuppliesplus.com
Best Place to Buy a Motorcycle
Biker Bob's Harley-Davidson
14100 Telegraph Rd., Taylor; 734-947-4647; bikerbobshd.com
Best Place to Buy Art (tie)
Rust Belt Market
22801 Woodward Ave., Ferndale; 810-441-0956; rustbeltmarket.com
Art Leaders Gallery
33086 Northwestern Hwy., West
Bloomfield; 248-539-0262; artleaders.com
Best Place to Buy Sneakers
Mr. Alan's Elite
Multiple locations; 313-893-8216; mralans.com
Best Record Store (Macomb)
Melodies & Memories
23013 Gratiot Ave., Eastpointe; 586-774-8480; facebook.com/melodies-memories
Best Record Store (Oakland)
Found Sound
234 W. 9 Mile Rd., Ferndale; 248-565-8775; foundsoundvinyl.tumblr.com
Best Record Store (Washtenaw)
Encore Records
417 E. Liberty St., Ann Arbor; 734-662-6776; encorerecordsa2.com
Best Record Store (Wayne)
Dearborn Music
22501 Michigan Ave., Dearborn; 313-561-1000; dearbornmusic.net
Best Specialty Market (Macomb)
Randazzo's
13441 E. 13 Mile Rd., Warren; 586-979-1010; randazzofreshmarket.com
Best Specialty Market (Oakland)
Holiday Market
1203 S. Main St., Royal Oak; 248-541-1414; holiday-market.com
Best Specialty Market (Washtenaw)
Plum Market
375 N. Maple Rd., Ann Arbor; 734-827-5000; plummarket.com
Best Specialty Market (Wayne)
City Market
575 Brush St., Detroit; 313-222-0000; citymarketdetroit.com
Best Tattoo Artist
Mark Heggie
Ferndale; 586-323-3115; markheggie.com
Best Tattoo Shop (Macomb)
Elite Ink
32750 Mound Rd., Warren; 586-838-4027; 247tattoos.com
Best Tattoo Shop (Oakland)
Signature
230 W. 9 Mile Rd., Ferndale; 248-439-0021; signaturetattoo.com
Best Tattoo Shop (Washtenaw)
Name Brand Tattoo
514 E. Washington St., Ann Arbor; 735-623-0553; namebrandtattoo.com
Best Tattoo Shop (Wayne)
Eternal Tattoos
27590 Plymouth Rd., Livonia; 734-425-0428; eternaltattoos.com
Best Thrift Store (Macomb)
Salvation Army
45250 Northpointe Blvd., Utica: 586-254-5674; usc.salvationarmy.org
Best Thrift Store (Oakland)
Value World
22130 Coolidge Hwy., Oak Park; 734-728-4610; valueworld.net
600 N. Telegraph, Rd., Pontiac; 734-728-4610
25646 W. 8 Mile Rd., Southfield; 734-728-4610
Best Thrift Store (Washtenaw)
Value World
1410 E. Michigan Ave., Ypsilanti; 734-728-4568; valueworld.net
Best Thrift Store (Wayne)
Salvation Army
2300 Venoy Rd., Westland; 734-722-3660; usc.salvationarmy.org
Best Tire Store
Sucher Tire
3641 E. Davison St., Detroit; 313-891-5640; suchertire.com
Best Women's Clothing
Peacock Room
15 E. Kirby St., Detroit; 313-559-5500; facebook.com/peacockroom