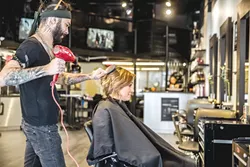 Read the full list of Best of Detroit 2017 Best Pampering winners here.

In a Rust Belt city like Detroit — especially one that's staging a comeback after a devastating economic collapse — pampering tends to be the last thing on our minds. Many of us don't treat ourselves to designer fragrances, our trips to the salon are farther in between than perhaps they ought to be, and our cuticles scream for better care.
Yet, some aspirational individuals can see past our Midwestern tendency toward asceticism, and they're working to provide metro Detroit with not only rest and relaxation, but some much-needed beautification.
Jeph Wright is something of a big fish in a small pond. Voters regularly recognize the Black the Salon owner as the best stylist in the area, and he's won national acclaim after being named a top stylist by Allure magazine in 2010. This year, Wright and his salon won in three of only nine pampering categories. That's got to say something.
Wright's empire is expanding, too. The salon's Royal Oak location opened in 2009 and, after years of success and careful consideration, Wright branched out to open a Corktown location in 2016. The secondary shop shares a building with Metropolis, a new bike store. It's also a neighbor to Detroit Artifactry. Across the street you'll find Slow's, Sugar House, and Astro Coffee. Wright has described the neighborhood as rock 'n' roll and "on the forefront" — something he also aspires to be.
Speaking of on the forefront, Detroit's comeback is no more evident than in the fact that flotation therapy centers are opening here as the relaxation trend unfolds on a national scale. Good Morning America did a spot on the sensory deprivation chambers, and in the same week Motor City Float seemed to appear out of nowhere in Clawson. Then, somewhat startlingly, a new category appeared in our Best of Detroit voting list, with voters naming Sapphire Springs the best place to float in all of metro Detroit.
Janée Angelique is yet another example of an entrepreneur who's capitalizing on Detroit's self-care service drought. She's the careful hands behind Detroit's Brow Bottega. She's built her clientele the old-fashioned way — by doing good work and honoring her clients. After establishing herself while working at local salons, she decided to go into business for herself, opening a brick-and-mortar business earlier this year.
Similarly, Detroit's about to get a new blow out bar, and although we're not sure how we feel about the name, the opening of Detroit Blows proves more and more Detroiters are willing to drop some of their hard-earned dough in order to get a little gussied up.

Best Barbershop
Gentlemen First
949 S Military St., #1, Dearborn; 313-565-8300; gentlemenfirst.creativejones.com

Best Flotation Therapy
Sapphire Springs
31166 Haggerty Rd., Farmington Hills; 248-702-0990; sapphire-springs.com

Best Mani-Pedi
Eco Nails
2881 W. Maple Rd., Troy; 248-326-6245; econailssalon.com

Best Salon (Macomb)
Blo Salon
45318 Market St., Shelby Twp.; 586-566-7700; theblosalon.com

Best Salon (Oakland)
Black the Salon
314 W. 4th St., Royal Oak; 248-565-8786; blackthesalon.com

Best Salon (Washtenaw)
Douglas J. Salon
500 E. Liberty St., Ann Arbor; 734-222-5416; douglasj.com

Best Salon (Wayne)
Black the Salon
2127 Michigan Ave., Detroit; 313-800-5184; blackthesalon.com

Best Spa
Margot European Day Spa
101 Townsend St., Birmingham; 248-642-3770; margots.com

Best Stylist
Jeph Wright from Black the Salon
314 W. 4th St., Royal Oak; 248-565-8786; blackthesalon.com