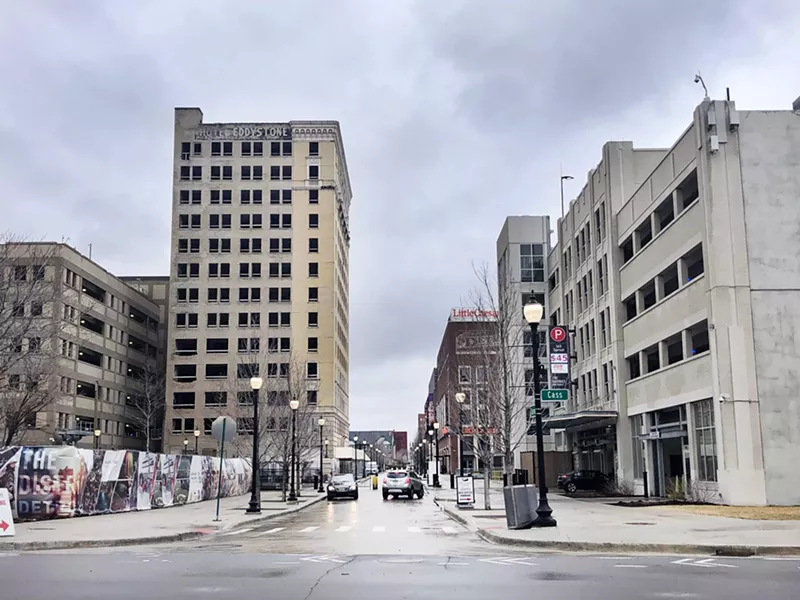 The Ilitch family isn't done shaking down the public for money for The District Detroit.
To date, the Ilitches' Olympia Development has received about $400 million in direct taxpayer funds to build Little Caesars Arena and a surrounding neighborhood full of retail, residential units, restaurants, and nightlife marketed as The District Detroit.
But when the actual value of the land as well as changes to the Olympia and the Ilitch-owned Red Wings' tax arrangements are factored in, the deal is will be worth over $740 million if the arena is open for 48 years, as the Ilitches say it will be.
Despite the public and local officials' generosity, The District Detroit is nothing more than a bunch of new parking lots, parking garages, and blighted Ilitch-owned buildings. There are no new apartments, homes, restaurants, or shops to speak of.
That's led to intense
criticism
and
scrutiny
in recent months from the local and
national media
, and public sentiment is generally shifting against the Ilitches for failing to fulfill its promises.
And yet on Monday evening,
Crain's
reported that the Ilitches will show no shame and seek even more public money for The District Detroit. Olympia is claiming it's going to begin work on the Hotel Eddystone, a vacant, Ilitch-owned 13-story building next to Little Caesars Arena.
However, this is the
third time
Olympia has announced it's going to begin work on the Hotel Eddystone, so it's anybody's guess as to whether the Ilitches are serious this time.
Crain's
, which reviewed the Detroit Downtown Development Authority agreement for the project, reports that the Ilitches are planning apartments and commercial space, and the renovation is expected to cost $40.9 million. Additionally, Olympia will "seek an unspecified amount and type of public incentives ... without specifying the number of residential units."
The Ilitches will also be required to provide a $30 million performance bond, which should've been required when it first scored the original deal in 2013. The new agreement also states that the deal can be changed "without any modification to the milestone dates" if "sufficient incentives are not available."
Stay on top of Detroit news and views. Sign up for our weekly issue newsletter delivered each Wednesday.