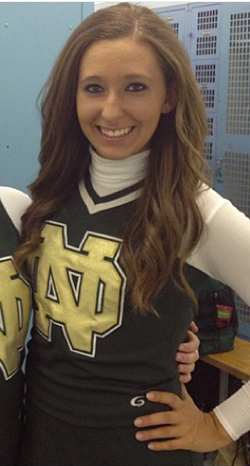 According to
Freep
, Kristy Malter, a 21-year-old Life Time Fitness employee, has died
after contracting bacterial meningitis
.
A press conference was held Wednesday night at the South Oakland Health Center in Southfield, where county officials warned that the 200+ campers and 39 staffers at the day camp where Malter worked could have been exposed to the life-threatening illness.
At the time of the press conference, officials were not releasing details on the victim and conflicting reports emerged, though Beth Campbell, former teacher and director of alumni relations at Notre Dame Prep in Pontiac, and others had announced Malter had died.
She wrote in a
Facebook post
: "Please keep the Malter family in your thoughts and prayers during this very difficult time."
Freep
reports that in high school Malter was a member of the varsity cheer team for three years, where teammates called her "Mama Kristy" because "she'd care for the needs of everyone," said Campbell, who is the head cheerleading coach as well as the director of alumni relations.
Many took to Twitter in remembrance of the Central Michigan student, who would have been a junior this coming fall.
My heart hurts but I am so blessed to of met you. This isn't goodbye but until next time. Rest easy @kristymalter ❤️ https://t.co/EHm3ttpb9j

— Heather Popp (@heathpopp) July 14, 2016
Kristy Malter, you and your family are in my prayers. You were one of the nicest people in our high school class. Rest in Peace

— Sydney Hendler (@sydneyhendler13) July 14, 2016
Only talked to her once but could easily tell that she was an all around great person. Shows how unfair life can be. RIP @kristymalter

— Chuck Rice (@4chuckrice) July 14, 2016
Rest in peace my sweet sweet friend @kristymalter you'll be missed more than words could express, we all love you so much

— Alyssa Bellamy (@alyssa_bellamy) July 14, 2016
According to reports, officials have reached most, but not all, of the kids and employees — yet so far no one has reported any signs of meningitis, George Miller, director of Oakland County Health and Human Services, told reporters.
Bacterial meningitis often makes headlines for its sudden onset and grave outcomes. The CDC describes the illness "very serious" and potentially lethal, stating on its website that "Death can occur in as little as a few hours. While most people with meningitis recover, permanent disabilities such as brain damage, hearing loss, and learning disabilities can result from the infection."
Additional details about the illness can be found at oakgov.com/health, and any concerned parents or staff can call Oakland County's Nurse on Call from 8:30 a.m. to 5 p.m. at 800-848-5533 or [email protected]