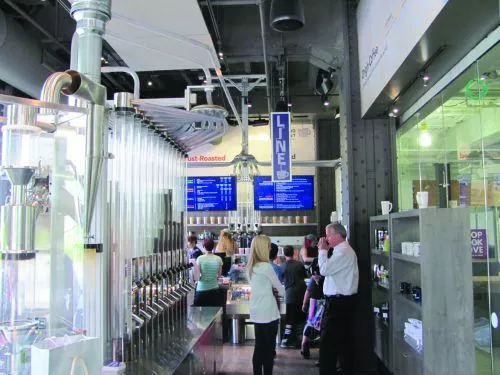 In what appears to be an ugly feud now playing out in federal court, the parent company of downtown Detroit's Roasting Plant has filed a counter-complaint against the coffee shop's owner.
New York City-based Roasting Plant says Elizabeth Rose, owner of the Detroit shop, sought to restructure her equity interest in the parent company to the detriment of other investors, disseminated false information about its financial stability, and interfered with its ability to gain additional capital, according to the complaint filed in federal court.
The complaint comes in response to
a civil lawsuit Rose filed last month
, in which the Bloomfield Hills resident seeks repayment of a series of loans worth $2 million that she made to Roasting Plant between February 2012 and 2014.
Southfield-based attorney Jonathan Myers, who represents Rose and Roasting Plant, declined comment Tuesday.
In Rose's lawsuit, she claims that Roasting Plant entered into promissory notes totaling $1,985,000 with her and the Elizabeth Rose Family Trust. Roasting Plant has "failed to tender payment," as stipulated under the promissory notes, and the entirety of Rose's personal loans of $860,000 "remain unpaid despite Rose tendering demand for payment," according to Rose's complaint. It's unclear if Roasting Plant has yet to make a payment on the roughly $1.1 million in loans from the family trust.
Myers previously told
MT
"nothing's going to happen" to his client's coffee shop, which is located in the First National Building at Campus Martius.
"There is a Roasting Plant in downtown Detroit that [Rose] essentially owns as a franchise ... The one that's in Detroit, it's fine ... She's dealing with other individuals in New York City," he said. The loans are unrelated to the Detroit location, Myers said. Rose was an early investor in the company,
MT previously reported
.
In the counter-claim, however, Roasting Plant and its president Michael Caswell allege Rose formed an alliance last November with two members of the company's board of directors to "promote their own self-serving agendas and interests."
That interest, it appears, was to have Roasting Plant branch out internationally.
"In exchange for support from the two board members with her own proposals, Rose supported the two members' proposed international expansion of Roasting Plant," the complaint stated.
"The international expansion of Roasting Plant, however, was not a viable plan."
The company, in a nutshell, then alleges Rose conspired with the two board members to gain an majority vote at an a meeting scheduled for Dec. 8 for a number of reasons. Rose's purpose for the meeting that day, the complaint alleges, was to have Roasting Plant acquiesce to her requested financing terms, restructure the company in a way that would be advantageous to her interests, and "force the international expansion of Roasting Plant despite the two board members' conflict of interest."
At that point, Caswell called a meeting of Roasting Plant's board of directors to "discuss the state of the company and Rose's request for a security interest," the complaint says. In response, Rose resigned from the board on Jan. 14.
The company also alleges Rose disclosed confidential and proprietary financial and business to company employees "who were not authorized to have access to such information." Rose passed "false information regarding the financial stability of Roasting Plant's business" along to the company's operations manager, who resigned upon the disclosure, according to the complaint.
In her initial lawsuit, Rose claims Caswell's "oppressive actions" as president turned the company into an "insolvent entity"; her complaint says Caswell dismissed several board members "without warning" after receiving criticism.
But even after she resigned from Roasting Plant's board of directors, Rose has interfered with company business, the company counters in its complaint. Earlier this month, the complaint says, a potential investor requested a tour of her Detroit store.
"Rose has indicated that she will refuse to provide the investor with full access to the Detroit store during his March 16th visit," the counter-claim says. Roasting Plant's complaint seeks unspecified damages, attorneys' fees, and injunctive relief.
Katherine Van Dyke, attorney for Roasting Plant and Caswell, declined comment Tuesday evening.
Meanwhile, Rose has filed a motion for summary judgment in the amount of $660,000, as well as interest and attorneys' fees, for personal loans she has made to the company. A hearing has yet to be set.
The coffee shop — a franchise location in which Rose leases the name and science fiction-like coffee equipment, according to her attorney Jonathan Myers — opened in January 2013. It's Roasting Plant's third shop, and the first location outside of New York City. Roasting Plant is known for its automated coffee machine called Javabot that shoots beans through sets of clear pneumatic tubes.