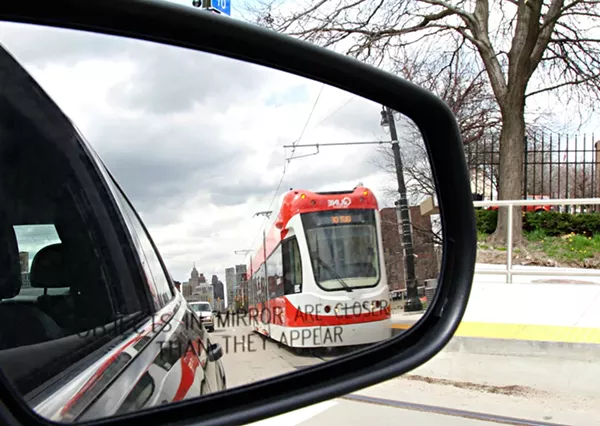 A
new report
from
Bridge
magazine says that Detroit's QLine streetcar has fallen short of its projected ridership goals, but a spokesman for the streetcar's operator M-1 Rail says the numbers need to be put in perspective.
The streetcar, which opened to the public one year ago on May 12, was funded with a mix of federal grants and private donors through 2027 — with a reported projected fare-paying ridership of 5,000 to 8,000 daily riders. But records obtained by
Bridge
show the streetcar is drawing far less daily ridership, averaging at about 2,700 daily rides from November through March.
However, M-1 Rail spokesman Dan Lijana cautions that to say the streetcar is falling short of its ridership goals would be premature at this time.
"The goal was 5,000 rides per day over the first year of revenue service," he says. When the QLine opened last year, rides were free until September, at which point fare-collection was implemented. "We're not even done with the first year yet," he says.
And the 8,000 daily rides, he says, was a projection for five years into the future. "So 8,000 shouldn't even be on the table," he says.
If the streetcar does have a lukewarm customer base, a likely factor is the fact that the 3.3-mile, 6.6-mile loop system is still working out some kinks. For example, QLine stops are outfitted with a digital screen that is supposed to give an estimated wait time, but the system has so far proved unreliable. (Lijana says M-1 Rail is still working on fixing the problem.) Riders have also
complained
that they could not buy monthly or annual passes depending on when they tried to buy one;
Bridge
reports that so far, 741 people have bought monthly passes, and only 130 people bought annual passes.
The streetcar has also occasionally been delayed by cars illegally parked on the QLine's curbside tracks. Even a car parked slightly too far from the curb can cause the streetcar to halt, as evidenced by this photo taken outside of the
Metro Times
office earlier this year.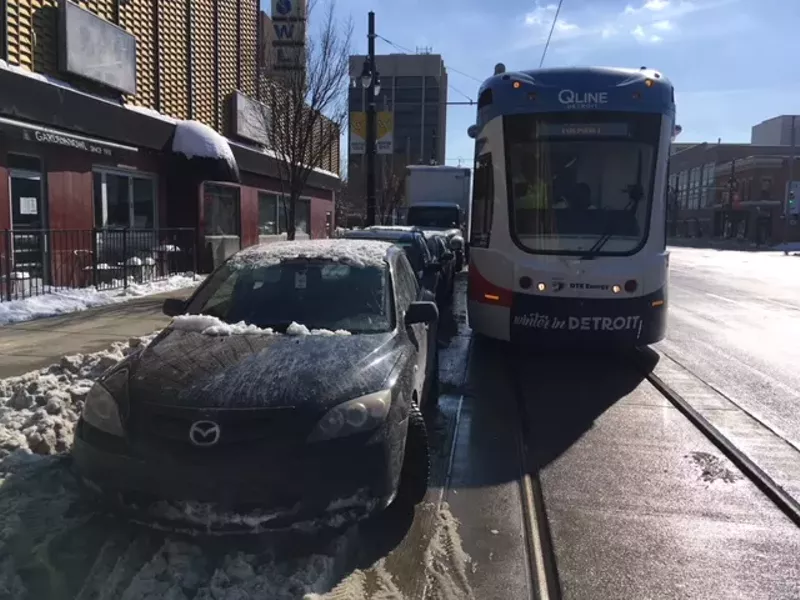 Additionally, the streetcar has been delayed due to occasional collisions with cars and other vehicles. A
Metro Times
report
found the QLine was involved in at least six vehicle collisions in 2017, though the streetcars' operators were not found to be at fault in any of the instances.
Then there's the fact the QLine overlaps with the Woodward Avenue Route 53 bus. According to Detroit Department of Transportation, Woodward Route 53 attains a daily average ridership of about 8,500 rides, though that route is longer than the QLine's, and also runs 24 hours.
M-1 Rail constructed the QLine system with the assumption that one day a larger regional transit agency would one day take over operations and oversight. Efforts are under way to put a $5.4 billion, 20-year regional transit millage before voters in November, which would fold operations of the QLine into a larger public transit system. However, Oakland County executive L. Brooks Patterson and Macomb County executive Mark Hackel oppose the proposal, and some Macomb and Oakland County legislators
have introduced a bill
that would allow cities and townships to opt out of the millage. A similar millage proposal was narrowly defeated by voters in 2016.
Stay on top of Detroit news and views. Sign up for our weekly issue newsletter delivered each Wednesday.