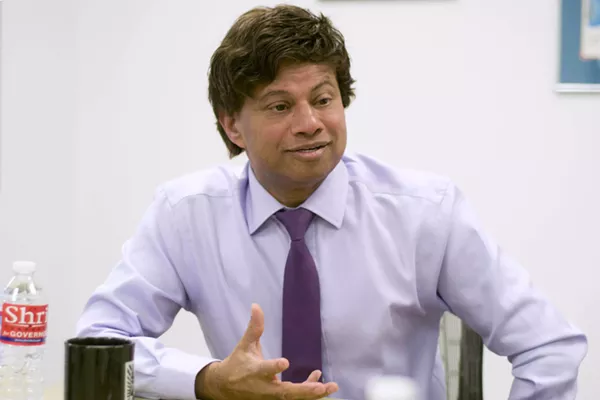 The latest poll on the race for the Democratic nomination for governor puts Shri Thanedar ahead of Gretchen Whitmer by about three points — 29.6 percent to 26.3 percent.
Abdul El-Sayed polled at 6.6 percent, while Bill Cobbs was at 2.5 percent.
Though the Detroit Regional Chamber gubernatorial poll put Thanedar ahead, it's worth noting that it found 34.5 percent of the 400 Democratic voters it polled undecided.
The poll suggests that a series of controversies and attacks from El-Sayed's camp didn't have much of an impact. That includes
an article
in
The Intercept
that questioned whether Thanedar is a true progressive.
Prior to that, polls put Thanedar slightly ahead of Whitmer, or vice versa. El-Sayed's polling numbers remain about the same.
a widely read story
about Thanedar abandoning dogs and monkeys at a former pharmaceutical facility he owned. The animals were rescued from the facility after Thanedar's company foreclosed in 2010.
Thanedar is a millionaire who is largely self-funding his campaign and running on a progressive platform. He's offering proposals like legalizing pot and using the money to help fix the roads, implementing a $15 per hour minimum wage, implementing universal health care, eliminating tax subsidies for the rich, and banning for-profit charter schools. He's refusing to take corporate cash to fund his campaign, as is El-Sayed.
El-Sayed supports similar policies, and his campaign bills him as the race's "real progressive." El-Sayed came out of Detroit Mayor Mike Duggan's administration and picked up endorsements from several progressive groups, like Our Revolution.
Whitmer, the former Michigan Senate minority leader, is seen as the establishment candidate. She's received endorsements from all major unions, and notes that while she is accepting corporate cash, most of her money comes from small donations.
Voters will choose a Democratic candidate on Aug. 7.
Stay on top of Detroit news and views. Sign up for our weekly issue newsletter delivered each Wednesday.