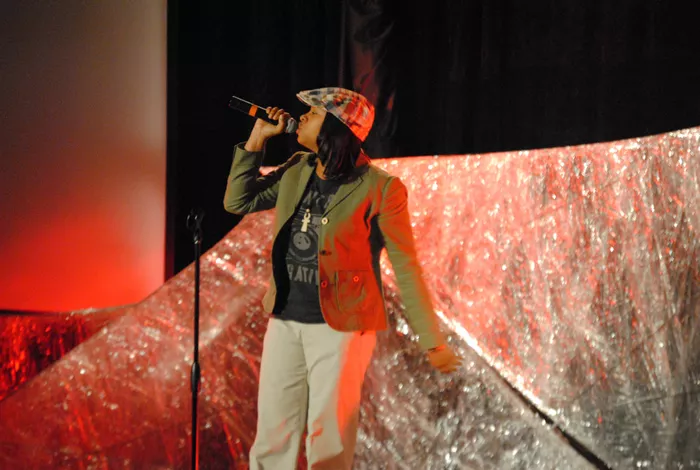 MT readers might remember local hip-hop artist Insite the Riot from such concert experiences as Blowout. But this local lady isn't just spitting rhymes. She's a leader of the Detroit community, actively working with Detroit Future City, among other groups. Insite took a few moments to speak with MT. This is what she had to say.
Metro Times: Tell me how you got involved with Detroit Future City.
Insite the Riot: I am a fellow through the Detroit Revitalization Fellows Program through Wayne State University. That program is designed to bring mid-career professionals who are either from this area or various parts of the country into Detroit to work with different nonprofits and community development-based organizations. There are 22 of us, and the idea is that we're placed in different organizations where we can create synergy and a sense of collaboration across the city. So, through the interview process, Detroit Future City ended up being a place that was interested in me. My thought process was, "Why not go to the source?" I didn't know a lot about it, I wasn't involved or in the planning process of it, so I had this opportunity to learn.
MT: You said something to me when we first met which stuck with me, and that was, "If you're not at the table, you're on the menu."
Insite: Yeah, there's a community activist and tireless fighter. Her name is Sandra Turner-Handy. She actually sits on our advisory board and our steering committee at Detroit Future City, but I know her from other tables that I sit at, and we've had these conversations about what spaces we occupy, and that was advice that she's given me. I've repeated it to other people and they've said, "Oh, I've heard Sandra say that," and so I keep that in the back of my mind to not be resistant to learning about or being in spaces that I don't know about.
MT: That's smart. So how does your work with Detroit Future City play into your work as a musician and an artist?
Insite: My work at Detroit Future City is centered around community. That's very intentional. It's a decision that I made. One: I feel like the community should be informed about what's happening around them, and what's happening to them. And two: The community should have a voice in helping to shape things that are happening, particularly with all the changes happening in the city. I come from a background in community development, human service, and youth work, and so that's why I evolved into that space. The connection with my music is that the music is all about inspiring and lifting up people, right? And that's people as individuals. That's people collectively. I think that's where the connection comes in for the two.
MT: Does your music affect your work at Detroit Future City?
Insite: I think so. … I think the approach that I take to my art and to the work that I do on a daily basis are the inspiration; the energy all comes from the same space.
MT: Is there anything in particular, like a message you try to get out or a cause you're particularly passionate about?
Insite: Yeah, so again, community being this broader idea, In addition to the work that I do from 9 to 5 — 9 to 9 sometimes — I have my own company called New Heights. It's the platform I use to put out my music projects. It's also a platform I use to do a lot of speaking engagements in the community. I do a lot of performances that aren't your typical, traditional music venues. So, like, in the month of June, I did a performance for a group called "Lips and Hips." It's a women's empowerment and personal development organization. I did a performance for BMe Community, which is an organization related to black male engagement, and it's a national organization.
I'm about empowerment. I'm about encouraging young people. I'm about education.
MT: You're involved with the Foundation and the 5E Gallery. How does that play in with everything?
Insite: So the work that I do with the Foundation — I'm a member of the collective. That's my larger role now. As much as I have on my plate, I haven't done a whole lot lately with the planning of things, but that work is all about… I don't even want to say changing the perception of women artists, but it's kind of like being the antithesis of what's expected, right? So you can either fight against what you don't agree with or you can support what you do. At the Foundation, it's all about showing women who are mothers, who are wives, who are girlfriends, whatever, and providing a platform for their voices to be heard. Like women are diverse, dynamic creatures, right? We're not monolithic, but we're not this one image, or one or two images, that are constantly portrayed. By being a part of that collective and taking this group of women into spaces where people aren't used to seeing that, it helps shape perception, and with younger women it helps show them it's OK to just be you.
MT: Who mentored you through this process, or who's helped you step up?
Insite: Who's helped me step up? Um, wow, so many people. I always say, "I stand on the shoulder of giants," right? I don't believe any of us get to anywhere in life by ourselves, as much as we like to claim that sometimes… "I worked hard, I grind it." But you know, I think my first inspiration was my mother. She taught me that I could do anything that I wanted to do, and I believed it. I believed it, like, for real, you know? It wasn't just like a fly-by-night. And then, for whatever reason, maybe it's just being open, maybe it's serendipity, maybe it's God, I always run into people who are supportive and want to lift me up.
MT: What's your long-term vision?
Insite: My long-term vision is — that's a great question, I was just talking to someone about this earlier — to grow my company, New Heights. I believe in self-sufficiency. I'm a proponent of entrepreneurship. I'd really like to grow New Heights to have a greater impact and a greater reach. So, through it, I see speaking engagements, I see performances, I see social-based events. Those might be concerts that are tied to some type of social issue or social justice issue where we're raising awareness or raising funds for it. And I'd like to expand my audience as well, so I have a pretty good following in the city of Detroit and the surrounding area, some regionally as well. I'd like to just expand, you know, just expand what I'm doing and have more people hear it and try to be of more service to more people.
MT: Do you have anything people in Detroit should know or think about?
Insite: I hope this doesn't sound cheesy or corny, but I would just encourage people in Detroit to incite the revolution in their thinking. We are in the midst of great change. Grace Lee Boggs has said it best when she said, "Reimagine everything." I would just encourage the people of Detroit to be willing to do that. Reimagine everything.
Insite the Riot is performing on July 12, at Concert of Colors with Lola Valley, at 8 p.m. on July 19, at Do Mind Dying Live Mix Tape at New Center Park, and at 7 p.m. on July 24, at Detroit Institute of Music Education (DIME) with Nique Love Rhodes; insitetheriot.com.