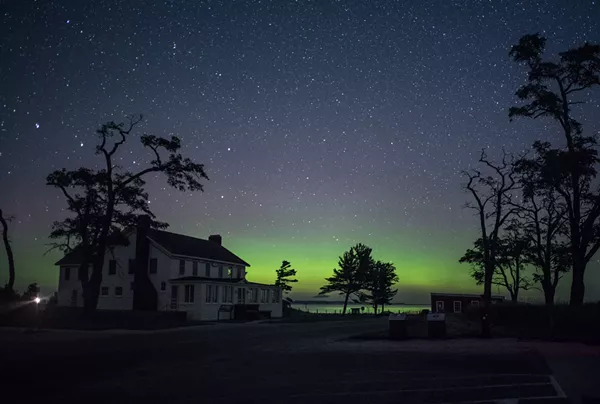 People venture far and wide to see the northern lights, planning vacations or bearing freezing temperatures along the way, but Michiganders in the northern part of the state were lucky enough to see them in their own backyards last night.
Roman Kahler, a photographer who has led Aurora tours in Finland, Norway and Sweden, captured the glowing green hues over the historic town of Glen Haven, part of Sleeping Dunes National Lakeshore.
The lights, he said, are even more spectacular in person than through the lens of a camera.
"A common misconception is that the lights always look better on camera, but this could not be further from the truth," Kahler told the Metro Times. "When it's a strong display, it looks brighter and more vibrant in person than any camera can capture."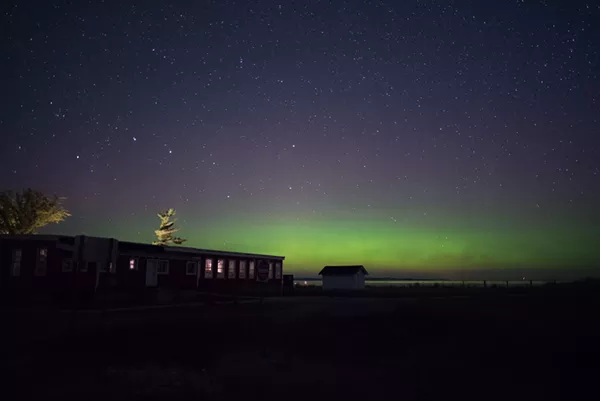 The northern lights, which are also known as aurora borealis in the northern hemisphere, form when charged particles emitted from the sun accelerate along the earth's magnetic poles and collide with gas atoms in our atmosphere. The result is a brilliant display of green and pink hues in the sky.
According to Kahler, the forecast actually overstated the aurora visuals last night.
"There was a strong forecast predicted for last night. It was an average showing, but still awesome nonetheless," Kahler said.
The geomagnetic storm watch issued by the National Oceanic and Atmospheric Administration's Space Weather Prediction Center yesterday is still in effect. The Center's most recent aurora forecast shows the view line reaching into southeastern Michigan just south of metro Detroit Tuesday night.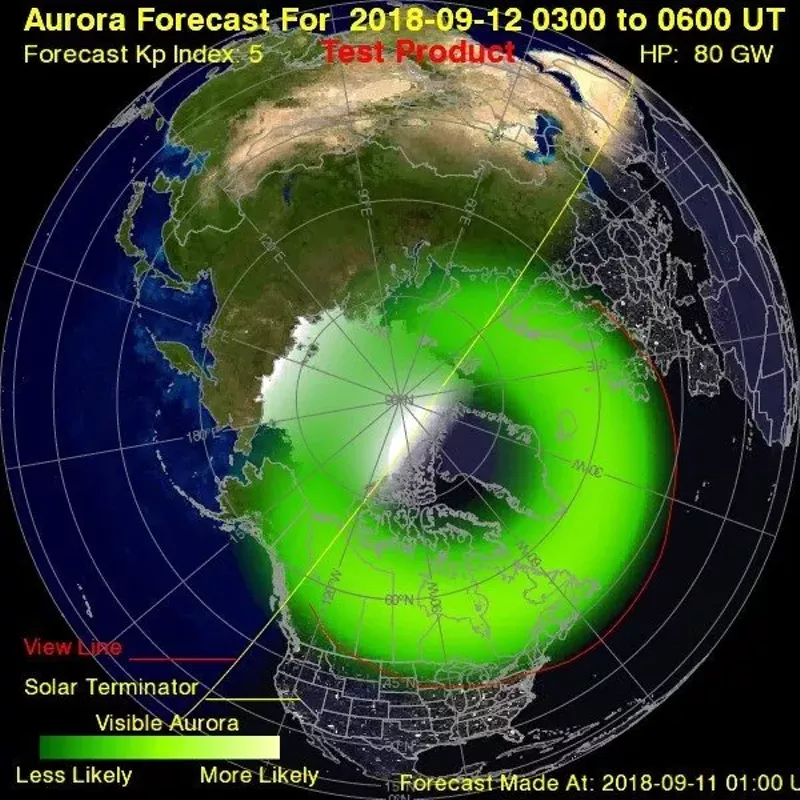 While the optimal time frame to see the lights in southeast Michigan is from 11 p.m. Tuesday night to early Wednesday morning, cloud cover and light pollution will make any sightings in the metro Detroit area unlikely. The best shot to see them is to head north for the night.
Even if unfavorable conditions tonight prevent an optimal view of the aurora, there should still be opportunities over the next few weeks. Rodney Viereck, the director of research at the Space Weather Prediction Center, said that the lights tend to make appearances around the fall equinox.
"The sun rotates every 27 days," Viereck told Metro Times, "so check again in 27 days just after the equinox and see what we're forecasting."

Lucas Maiman is a Metro Times fall editorial intern.

Stay on top of Detroit news and views. Sign up for our weekly issue newsletter delivered each Wednesday.