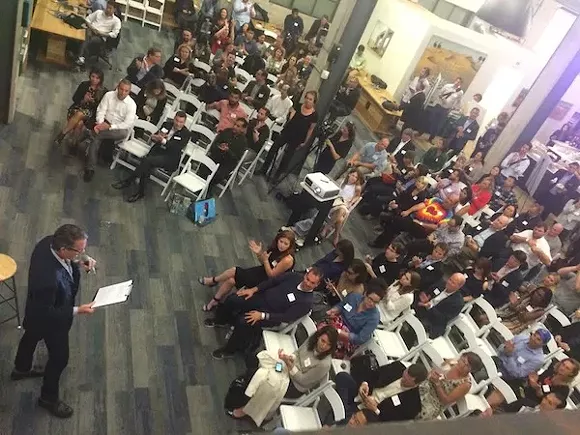 What a time to talk to the people at NewCo Detroit: Fresh off
a piece in Deadline Detroit making fun of the business conference's over-the-top copy
. Writer Alan Stamm made merciless fun of the event's superlative statements and cutting-edge qualifiers.
(Then again, what's all the fuss about? Metro Detroit is probably the home of unsupported claims of peerlessness. Motz's Burgers has "the best coffee in town." Coney Joe's is the "World's Greatest." And it goes on from there.)
With a laugh, Lee Anna Mariglia, director of communications for NewCo, says she's seen the piece, and adds good-naturedly that "there's no such thing as bad press."
"We are celebrating business on a mission through the Detroit festival," Mariglia says. "We are not a traditional business conference. What sets us apart is, we take people inside the offices of nonprofits, civic agencies, and businesses doing interesting, innovative work in their industry."
It's a sort of open house for the executive set that will bring together businesses doing what Mariglia calls "dynamic, innovative work," but it will also include traditional brick-and-mortar media companies and even a nonprofit or two.
For instance, it's something of a surprise to comb through these "solutions-oriented" representatives of the "innovation economy" and find Downtown Boxing Gym participating, but Mariglia tells us it's right in line with companies that have a "double-bottom line," pairing purpose with profit. The cultural and the social are viewed as capital here too: Attendees can expect sessions with the Motown Museum and the Museum of Contemporary Art Detroit, too.
The decision to do so is intentional. "We are not only featuring for-profit businesses," Mariglia tells us. "We are including institutions, civic agencies, arts groups, cultural institutions. We want the people who attend to get the local view of what's shaped Detroit and will continue to do so … We want to be as inclusive as possible."
That's because they hope to attract a range of people and organizations for best networking, partnering, sponsorships, and anybody in search of new approaches. And, of course, to help give the participants additional exposure.
What's more, Mariglia says the function is fun, from the interesting participants to the events the conference is bookended with, including Tuesday night's VIP party, with live music, and the big meetup Wednesday night, with food from local restaurants, beer and wine, and more chances for attendees to meet the hundreds of people they may not have encountered in their individual groups.
It does sound like a worthy event for its target audience, and might indeed be more fun than your typical business conference. But will they tone down the language a little next time they come to Detroit?
"We recognize at NewCo that this is a shift in business," Mariglia says, "and so some of the language might not be familiar to everyone or it might sound kinda goofy. But, really, these organizations are trying to make dynamic change."

You can meet these people and participate in NewCo by clicking here. Tickets range from $90 to $350 for the full VIP package. Click here for a full schedule of participants and times. The conference is Wednesday, April 13.