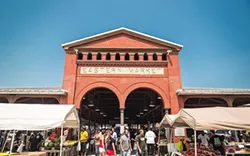 The Detroit Department of Transportation is proposing several route changes that would go into effect this fall, including direct rides into Eastern Market.
Dubbed the "Fresh Wagon," the changes include round trips from six Detroit neighborhoods to the open-air market near downtown, according to the Detroit Free Press. Officials unveiled the proposals at a public meeting Tuesday morning.
Neil Greenberg, the transportation department's manager of service development and scheduling, told the newspaper that rider input sparked the idea for the new routes, particularly a man who asked how DDOT can improve access to fresh produce.
"I connected the dots, I said, 'Oh, we take people to the Eastern Market,'" Greenberg told the Freep.
Three more hearings are planned in the coming days:
Tuesday, July 19, 5:30-7 p.m., East Lake Baptist Church, 12400 E. Jefferson Ave., Detroit

Wednesday, July 20, 5-7 p.m., Rosa Parks Transit Center, 1310 Cass Ave., Detroit

Monday, July 25 5:30-7 p.m., Redford Branch Library, 21200 Grand River Ave.
Dan Carmody, president of the Eastern Market Corp., told the newspaper the new route would be a "significant improvement," particularly for a city where so many residents lack access to a vehicle.