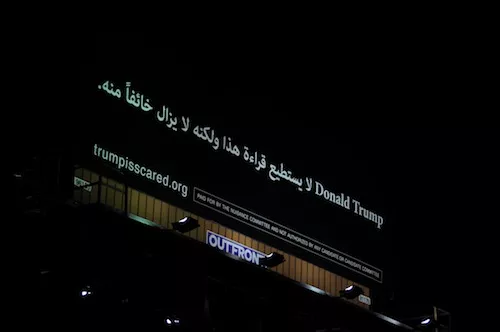 Look what came in through the transom overnight: a Dearborn billboard "written in Arabic that subtly accuses Donald Trump of racism and xenophobia."
The billboard is from "Cards Against Humanity's anti-Trump political action committee, 'The Nuisance Committee,'" according to an announcement.
Now, we'd never have accused the Cards Against Humanity people of being subtle. (Anybody who's drawn a white card reading "a big black dick" knows better than that.)
The billboard can be seen on westbound I-94 near near exit 210B, for Addison Avenue and Ford Road. In other words, it's there as a treat for motorists entering Dearborn, many of whom, of course, can read the Arabic. In fact, the press release we received says the billboard "targets Arabic-speaking voters in the Detroit area and encourages others, who don't speak Arabic but are curious about its message, to ask a friend what it says."
What does it say? It simply says, "Donald Trump: He can't read this, but he is afraid of it."
Well, hey, that is pretty subtle. (Of course, compared to Cards Against Humanity, what isn't? Come to think of it, compared to Trump, what isn't?)
The billboard follows on the heels of similar anti-Trump billboards in
Chicago
and
Orlando, Florida
. Those were also funded by the Nuisance people, with proceeds from
Cards Against Humanity's Donald Trump and Hillary Clinton add-on packs
.