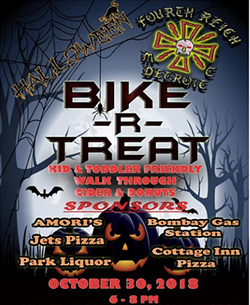 Some Madison Heights community members are concerned that a local motorcycle club called "Fourth Reich Motorcycle Group" is planning to host an annual kid's Bike-R-Treat event Tuesday night. A flyer says that the "kid and toddler friendly" event is scheduled as a walk through Madison Heights from 6 to 8 p.m.
The "Fourth Reich" was a term coined by Arthur Moeller van den Bruck in 1923 as a successor to the Third Reich, and has been embraced by Neo-Nazis who envision a revival of Nazi Germany. Fourth Reich Motorcycle Group has white nationalist content on their Facebook page — "I remember when White Boys were proud to be White, Some Still Are," reads
one meme
.
Given recent high-profile incidents of anti-Semitism, including a massacre over the weekend at a Pittsburgh synagogue that left 11 dead, some community members are concerned about exposing children to a motorcycle club with a culturally insensitive name. Some members of the Madison Heights community, however, support the club for its community service.
One individual, who asked to remain anonymous for fear of retribution, says that they were criticized by Madison Heights residents after they spoke out against the Fourth Reich.
"Everyone was saying they do good and when I said I felt uncomfortable, people said, 'You should move,'" they say. "Someone who commented positively about the club had even taught my toddler gymnastics."
They also say that the motorcycle club was supported by prominent residents of Madison Heights. Al Morrison, the outgoing president of the Madison District school board, is
featured
in a photograph on the Fourth Reich's Facebook page. However, Bob Corbett, a member of the Madison Heights city council, says that the group has not posed any danger to the community.
"There's a history with the symbols, but there is not a history with them. If I thought this was a hotbed of Neo-Nazism or bigotry in the community, I would be the first person to say something," says Corbett. "But it's a club that is well below the radar, doesn't cause any trouble, and has a curious name that may be offensive and may have
negative
meaning."
The flyer also lists five sponsors for the trick-or-treat event: Amori's Market, Jet's Pizza, Park Liquor, Bombay Gas Station, and Cottage Inn Pizza. In an email statement, Cottage Inn says that they will look into the matter with their franchises.
Jet's Pizza, however, said that the franchise store had no affiliation with the event and was not an official sponsor:
Jet's America's values and beliefs in no way reflect or condone those of Fourth Reich Motorcycle Club or any white nationalist group. In light of this past weekend's tragic events, we are taking this use of Jet's name very seriously and will not stand for the misrepresentation from such a cause. Our company follows strict guidelines for our registered logo. The attached advertisement is not approved by Jet's Pizza and we will be addressing this to the fullest.

Metro Times
reached out to the remaining businesses listed as event sponsors, they did not immediately return our request for comment.
In the late 1990s, a white supremacist gang in New Zealand referred to itself as the Fourth Reich. This summer, a motorcycle clubhouse in Sydney, Australia called Fourth Reich was
raided
and had Nazi paraphernalia and weapons seized.
Lucas Maiman is a fall intern at Metro Times.
Stay on top of Detroit news and views. Sign up for our weekly issue newsletter delivered each Wednesday.