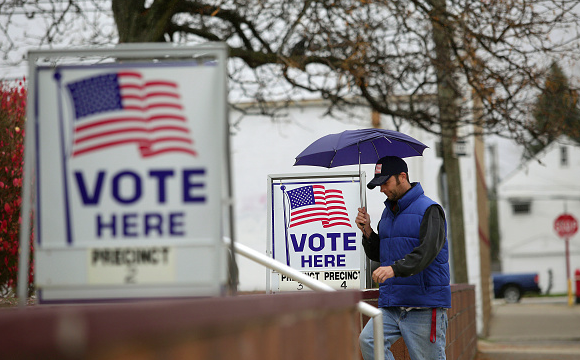 A proposal on the ballot next week that would implement sweeping changes to Michigan's election law has inspired debate over the effectiveness of some of its provisions.
The "Promote the Vote" initiative — known on the ballot as Proposal 3 — would amend the state constitution to authorize automatic and Election Day voter registration, no-reason absentee voting, and straight-ticket voting, while also giving military members additional time to vote.
The proposal is backed by Promote the Vote, a committee that is largely funded by the American Civil Liberties Union and its Michigan branch. Organizations and Democratic leaders have endorsed Prop 3, including the Michigan League of Women Voters, the Michigan AFL-CIO, and Detroit Mayor Mike Duggan.
"I believe in making it easier to vote and harder to cheat," Democratic Secretary of State candidate Jocelyn Benson
told
Bridge
in August, "and this proposal does both of these things."
Supporters of Prop 3 say that it will help Michigan catch up to other states by making voting less of a headache.
"After the presidential election in 2016, we heard a tremendous desire on the ground and around the state in urban communities that voting should be easier," Kary Moss, the ACLU's director of affiliate support and nationwide initiatives,
told
the
Free Press.
"Michigan is a real outlier behind other states in basic protection against voter suppression."
According to Moss, 37 states already have one or more of the proposal's provisions in their own constitutions.
But critics have alleged that the proposal could open the door to voter fraud. A spokesperson for outgoing Secretary of State Ruth Johnson said that she has concerns about the same-day voter registration provision in particular.
"Secretary Johnson has concerns about the same-day registration portion of the proposal although she has not endorsed or opposed the proposal. She does not believe clerks would have sufficient time to mail out a
forward-able
mailing to confirm a voter's address as they do now," Fred Woodhams, a spokesperson for Johnson, told
Metro Times
.
"A person would be able to sign the affidavit to register to vote without showing identification and present a single proof of residency. The lack of identity confirmation could open the door to registration fraud that would be difficult to detect on Election Day."
Other states with same-day voter registration, however, reported seeing an uptick in voters but no voter fraud.
In Idaho, which has had same-day registration since 1994, the Secretary of State's office says that the provision has only helped people to vote.
"We really have not seen here in Idaho people trying to get around or double vote or any of that nonsense," Kristie Winslow, the communications director for Idaho's Secretary of State,
told
the
Free Press.
"The majority of people (benefiting from the law) are simply people who moved within Idaho but haven't registered."
Numerous studies have also shown that voter fraud is rare to non-existent. One
review
of elections that have been meticulously studied for supposed incidences of voter fraud found that most reported incidents of voter fraud are traceable to other sources like a clerical error. Court decisions from
North Carolina
to
Wisconsin
have also concluded that voter fraud is rare and does not pose a significant threat to election integrity.
The proposal seems likely to pass on Nov. 6. According to an EPIC/MRA statewide
poll
of 600 active and likely voters that was taken at the end of September, almost 70 percent of those surveyed said they would vote for Prop 3.
Stay on top of Detroit news and views. Sign up for our weekly issue newsletter delivered each Wednesday.