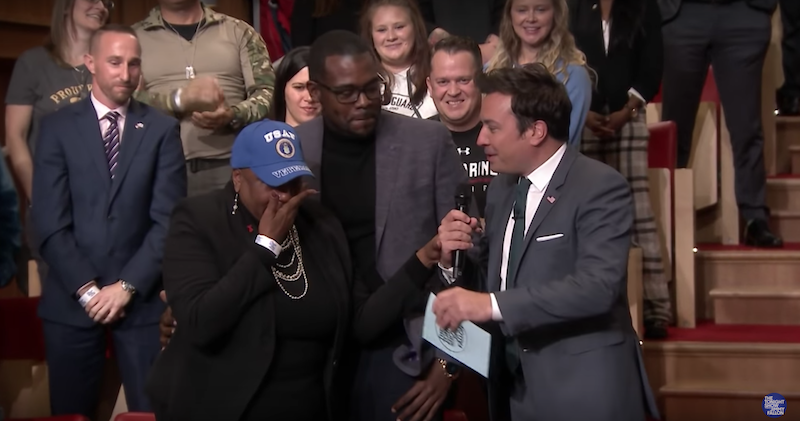 Jimmy Fallon presented Michigan resident and 26-year U.S Air Force veteran Vernitta Love with $50,000 on The Tonight Show.

Love's son, Aaron, nominated his mother to win $25,000 from the Home Depot Foundation: Operation Surprise.
The Foundation picks nominated veterans all over the country to give $25,000 for home repairs.
Many veterans were in the crowd for the show that night, and Love was shocked when Fallon called her name.
Joyful and teary-eyed, Love hugged Fallon and couldn't believe what was happening.
The Home Depot Foundation doubled Love's prize and gave her $50,000 instead of $25,000 when Aaron told them her story.
"Vernitta, is this your son Aaron?" Fallon asked. "Aaron is the one who nominated you. Aaron tell me a little about your mom."
"My mother is a single mother from the east side of Detroit. She raised me by herself," Aaron told Fallon.
"She's retired, but at the same time I don't know anybody more selfless than her. She gives to the homeless vets in our area and is always trying to do things in the community. I entered her in the contest because her house is home, but behind the scenes it's a wreck."
Love was shocked when she found out she was given $25,000. But when Fallon broke the news and told her she was getting $50,000 instead, she was in disbelief.
"Congratulations to you and thank you for your service," Fallon told Love as she continued to cry tears of joy.
Stay on top of Detroit news and views. Sign up for our weekly issue newsletter delivered each Wednesday.