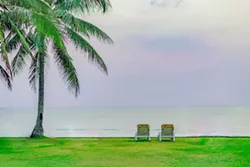 OK, it's not a sure thing, but there is a possibility that maybe, perhaps, Detroit might get an "urban beach" on the riverfront that would connect Chene Park and Stroh River Place, according to an
Eater Detroit article
.
The project was pitched by the Detroit Riverfront Conservancy to the 2017 Knight Cities Challenge, which was accepted as a finalist in the competition.
So, no, it's not a sure thing. Like, in any sense of the word. But! If the project wins the challenge, it promises it will "further activate the Detroit waterfront by creating an inviting, urban beach along the city's Atwater Street."
Well, I mean, that sounds nice, right?
The beach would be similar to the
giant kitty litter box
beach at Campus Martius, where there is no water, but plenty of sand and brightly colored outdoor furniture plus access to drinks and food. The project itself is modeled after similar beached in Philadelphia and Toronto.
There are currently 144 projects in the 2017 Knights City Challenge. Twenty-one of them are Detroit-based projects, most of which are focused on community spaces.