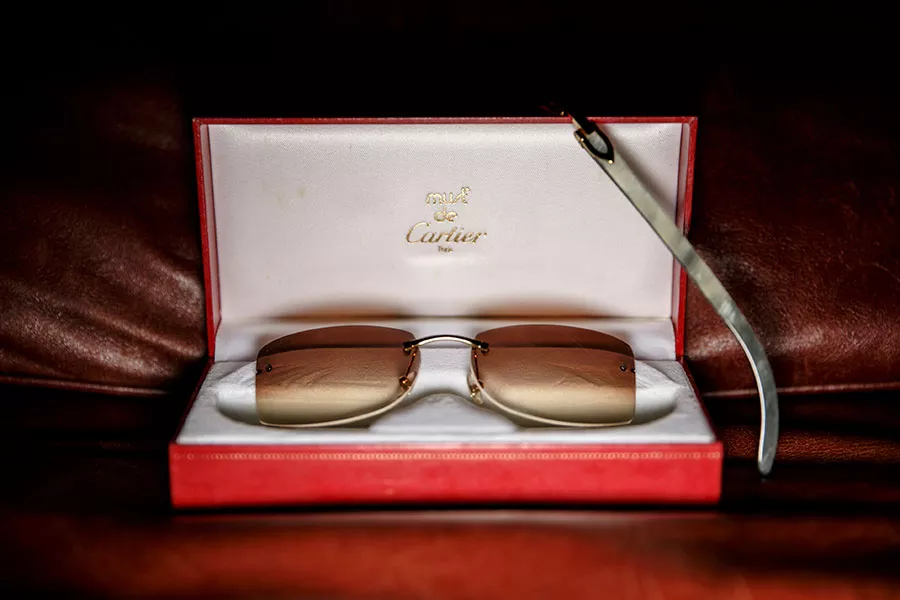 Darryle Miller was just 20 years old in the summer of 2010 when he was killed for his Cartier sunglasses. Known to his mom as Little Darryle, the 6'6" former high school basketball star from Detroit had taken a 30-minute drive to Somerset Collection mall in Troy earlier that summer to purchase the $2,400 pair of Cartier C Décor white buffalo horn frames, better known simply as "White Buffs."
Although they may seem frivolous to outsiders, Cartier glasses are a status symbol in the city, and for more than 30 years, they've remained a staple of Detroit fashion and culture. With a retail price that's since jumped to $2,650 and up for the most popular frames, they've also become deeply associated with crime. They're referred to as Carties, Cardis, 'Ye's, or Sticks. For a while, the most fashionable designs were the Woods, made with Bubinga lumber, and Wire Frames, with lenses fixed in a thin gold rim. But today, at the top of Detroit's Cartier eyewear hierarchy are the "All White Buffies," immortalized by local rapper Rich Ken on a song of the same name. The whiter the Buffs, the more coveted the frames, and D. Mills, as he was known to his friends, wore a pair the night he died that were as white as ivory.
They were so visible, so goes an eyewitness account, that even as he emerged from a dimly lit underpass after a celebratory night downtown, they were spotted by a man who was lurking in a dark alley. He was tall, even next to Darryle's power-forward frame. Brandishing a handgun, he demanded Darryle's glasses.
"Darryle just took off running," says Rod, Darryle's best friend and roommate at the time. Rod waited a few seconds, then started following them.
He says he heard a shot and rounded the block. Darryle was still running, but soon, he lost his footing and tumbled to the ground. The man stood over Darryle, grabbed the glasses, and started to run. Rod gave chase, but the man turned the gun toward him and shouted, "If you keep following me, I'm gonna air this bitch out." Darryle died later that night from a single gunshot wound to the back, leaving behind a two-year-old daughter.
With the eighth anniversary of Darryle's death approaching, his case remains open. "I'm going to keep on fighting until somebody is brought to justice," says his mother, Rose. "You don't go out and take somebody's life for a pair of glasses." But when it comes to these particular glasses in Detroit, Darryle's story is no outlier.
The whiter the Buffs, the more coveted the frames, and D. Mills wore a pair the night he died that were as white as ivory.

tweet this
According to the Detroit Police Department, between 2012 and 2016, Cartier glasses figured in nine homicides, 17 non-fatal shootings, and 2,158 robberies. There was the time in 2014, where, in exchange for a watch and Cartier glasses, a man named Timothy Jones helped a neighbor dispose of his wife's corpse. There was the trio of carjackers who drove off with $1,600 in cash and a pair of vintage frames. And as recently as June 7 of this year, a 64-year-old man had a pair of Cartiers snatched off his face as he walked off a city bus. While Cartier-related crime appears to be tapering off, the year Darryle Miller was killed, Detroit Police reportedly estimated that a staggering 15-20 homicides were in some way related to Cartier glasses.
Detroit's chief of police James Craig insists that the nexus of crime and Cartiers does not necessarily indicate a trend, and that it is impossible to glean motive from the numbers provided by his department. "Prior to my arrival there may have been some instances where Cartier glasses have been one target of a robbery, but I cannot say definitively to you that they are necessarily an object of attack," he said on a brief call last July before heading into a screening of the film Detroit. He seems protective of how the city is portrayed, and with good reason. Craig was appointed in 2013 and tasked with reinvigorating a beleaguered department in the midst of the largest municipal bankruptcy in U.S. history. At the time, Detroit was the murder capital of the United States, and with an average police response time of an eternal 41 minutes, some called the ongoing violent crime problem a "public health issue." When it came to Detroit's struggles, Cartier glasses were just another symptom.
The history of violence associated with the glasses is not lost on the Cartier owners I spoke with, but that does little to dissuade patrons captivated by the allure of what they mean. "It was a symbol in the city of 'I'm seeing some type of success, I'm seeing some type of money,'" says Big Sean, arguably the biggest rapper to come out of Detroit since Eminem. In a place where nearly 40 percent of the population lives below the federal poverty line, sending the message that you're above that marker has value. It's a chance to show the world that you've elevated yourself out of those conditions.
Cartier is not unique in this way. In 1984, The New York Times reported that "Cazal eyeglass frames, which are particularly popular with teen-agers, some of whom wear them without lenses, have figured in 191 robberies this year, according to police records." A few years later, Sports Illustrated published a cover story titled "Senseless," about the nationwide plague of murders involving Air Jordan sneakers and other popular sportswear. Nobody wants to be considered poor, and like Cazals and Jordans before them, Cartiers have the uncanny power to make you feel like you're not. Real-life rose-colored glasses.
About a year after D. Mills passed, Big Sean appeared on BET's famed talk show and hip-hop rite of passage 106 & Park. Midway through answering his first question, he reached into the pocket of his dark jeans and pulled out a pair of Cartier Woods. "I always said that if I went on 106 & Park, that I would do some shit like that 'cause I knew what that meant to Detroit," he said.
Big Sean is one of many Detroit rappers to operate as an unofficial brand ambassador for Cartier. The hip-hop community helped mythologize Cartier sunglasses, but the style's history began before Big Sean and even before hip-hop. As Sean explained, "I don't know how it started. I can only tell you how I remember it."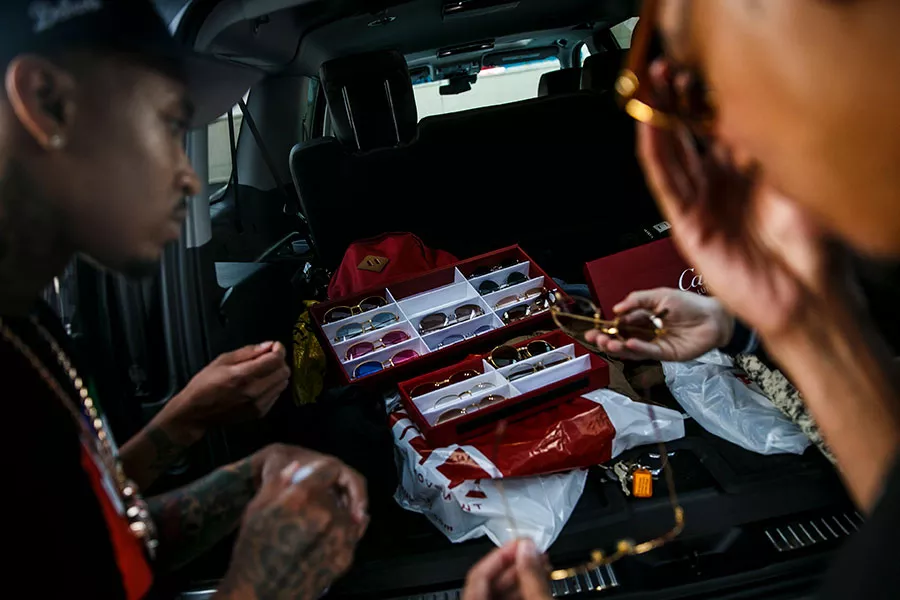 "Snatch his Carties off his face / Snatch his Carties off his face / Snatch his Carties / Fuck driving all the way up to Somerset"
—"Snatch Yo Carties" by Bizarre feat. King Gordy and Young Calicoe

Cartier's first foray into eyewear was a diamond-encrusted lorgnette, a pair of opera glasses custom-made for a French princess in 1887, 40 years after the company was founded. For close to a century, the company's optical offerings were relegated to ornate, special-order pieces, but in 1983, Cartier debuted its first line of mass-produced glasses with an extravagant launch party in Tunisia attended by Elton John.
According to one luxury goods analyst, the company has typically been a "weak player" in the luxury eyewear industry, dwarfed by the likes of Ray-Ban and Gucci, and until recently, was "losing material amounts of money." (Notably, while Ray-Ban and Gucci sunglasses are in the luxury category, their prices are far lower than Cartier's, with a pair of Ray-Bans averaging $150 and most Gucci glasses going for around $400.)
While Cartier's specific financials are difficult to discern, its parent company, Richemont, saw a 45.6 percent drop in overall profits last year. This was at least one of the catalysts for the company's hallmark eyewear licensing deal with luxury conglomerate Kering, which owns Gucci, Balenciaga, and Saint Laurent, among other brands.
Until the agreement, which was announced in March 2017, Cartier was unique in the luxury eyewear market, maintaining control over everything it produced. Most high-end designers don't make their own eyewear, instead signing licensing deals in which an optical giant like Luxottica develops and sells collections under a brand's name and pays the company royalties. It appears that eyewear has been an afterthought for Cartier's business, which is largely known for fine jewelry and watches. In Detroit, however, it's everything.
Cartier's history in Motown dates back to the final years of the city's heyday, and the subsequent stunning collapse mirrors the glasses' improbable rise. In 1969, at the Somerset Collection mall, Dr. Herman Bennett opened AuCourant, one of the first licensed Cartier eyewear dealers in Michigan. Two years earlier, a speakeasy raid ignited latent racial tensions and sparked the most violent riot of the 1960s. After five days, 43 people lay dead and the events marked the beginning of Detroit's plunge toward economic desolation. The population plummeted as residents relocated to the suburbs, but while white flight robbed the city of business and jobs, Bennett became an unlikely beneficiary of the demographic shift. With a new luxury eyewear store situated on the edge of the city, he soon found out that Detroiters could not get enough Cartier glasses.
Nobody wants to be considered poor, and Cartiers have the uncanny power to make you feel like you're not. Real-life rose-colored glasses.

tweet this
For close to a century, Cartier products were almost exclusively worn by monarchs and aristocrats, but increased access to air travel in the '60s and '70s exposed a new crop of creatives and fashionistas to luxury goods. By the mid-'80s, blue-collar line workers at car manufacturers were putting excess earnings toward adorning their faces with a visible signifier of wealth, Cartier. In the years following the riots, Bennett's business took off thanks to a wave of nouveau-riche clientele who wanted to be treated like royalty.
Even the experience of purchasing a pair makes you feel like a king. When a sales associate is interacting with a prospective buyer, Cartier mandates the following procedure: First, the associate puts on white gloves. Slowly and gently, they remove the glasses first from the red Cartier case, and then from its black glasses case. The glasses are then transferred to a tray or a white leather pillow, and finally, the associate places them on the face of the customer, lest a human fingerprint tarnish the white buffalo horn.
When Detroit's manufacturing economy declined in the '80s and '90s, fewer auto-industry employees frequented the store, but business stayed consistent as crack infiltrated the city due to a new breed of clientele: drug dealers.
"BMF were cashing out Carties like crazy," says Amy Rosenberg, Bennett's granddaughter and AuCourant's former manager, referring to the Black Mafia Family, a notorious Detroit crime syndicate that ran an operation estimated to be worth over $270 million. Finding new patronage in Detroit's rising criminal element, Cartier glasses continued to flourish, and other businesses were hungry to cash in on the trend. "Everyone wanted that account," according to Rosenberg.
Another employee of a licensed Cartier dealer, who spoke on the condition of anonymity, explains, "If you have the money to open a Cartier account, you can make money hand over fist." But with high insurance premiums due to the risk of theft, the barrier to entry is substantial. And when you're not an authorized dealer, there are other, more nefarious avenues for obtaining the product.