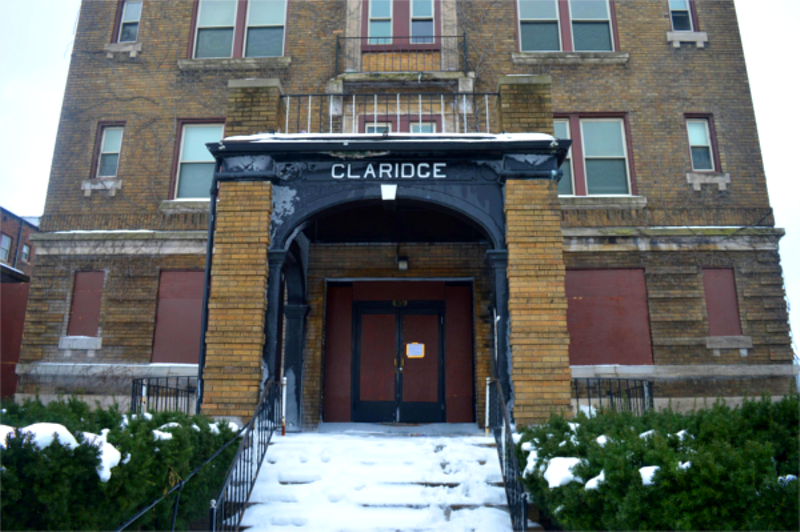 Updated July 3, 2018:
A final discussion and vote were reportedly postponed by Councilmembers Ayers, Jones, McCalister, Leland, Spivey, and Sheffield for "more time" — one week. Councilmembers Benson and Castaneda-Lopez tried for the vote but were unsuccessful. The issue seems bound to come up on July 10, 2018.
Originally posted on June 28, 2018:
Update: At the conclusion of today's hearings, Detroit City Council voted to move the item to formal session on Tuesday, July 3.
As this hits the internet, interested Detroiters are meeting for a public hearing before Detroit City Council on the proposed Cass-Henry Historic District.
The district is being supported by those who'd like to see one of the few remaining walkable areas in the lower Cass Corridor preserved, due to its historic density, irreplaceable architecture, and the way that promotes walkability, among other considerations.
What they are concerned about is that, without any framework for preserving the buildings, these buildings will become surface parking lots for Olympia Development Company, the Ilitch family company behind the new hockey arena.
Francis Grunow, chair of the Neighborhood Advisory Committee for the Little Caesars Arena district, spoke with Michigan Radio yesterday
. He made clear that all he and other neighbors would like to see is the bustling, dense, walkable district that Olympia had promised in
its District Detroit promotion
.
This morning, Grunow released a statement he made at this morning's meeting:
My name is Francis Grunow, chair of the Neighborhood Advisory Committee (NAC) for the Arena District, a body you created to inform Council about quality of life issues in District Detroit. Since assuming this role, I've been attending these meetings, providing you with weekly statements (in about 400 words or less).

This week, it is with a full heart and gratitude for this process that I support the proposed Cass-Henry Historic District.

Structures within Cass-Henry make up one of the last intact blockfronts in the Lower Cass Corridor. These buildings represent Detroit's rapid growth a century ago. And while several of these Ilitch-owned structures are vacant, two are not, offering dozens of Detroiters naturally affordable housing close to downtown, in a neighborhood that's only lost affordable housing of late.

Cass-Henry represents the past, but also the future, and a rare development opportunity for downtown Detroit, as it continues to see major investment, after decades of neglect.

Yes, the buildings in Cass-Henry allow us to embrace Historic Preservation as an important cornerstone of redeveloping District Detroit, offering a glimpse at the unique architecture of early 20th Century Detroit, and are the irreplaceable and authentic touchstones of neighborhood life touted by ODM and District Detroit.

Cass-Henry is primed for walkability, and could be further redeveloped to better manage parking and mitigate congestion in District Detroit. Buildings here do not have to satisfy parking requirements in the same way as new construction. Built as smaller, efficiency apartments, they lend themselves for occupancy, at least in some part, by workers—like the janitors fighting for living wage you've heard from recently—who live close to jobs at LCA and downtown office buildings, and can easily walk to work. Remember, the neighborhood needs assessment identified access to jobs as a key finding.

Finally, Cass-Henry represents affordability currently, as well as a chance to create new affordable housing. With the recent eviction of residents from the Claridge Apartments, affordability in the District has been eroded. Olympia Development has laudably committed to creating affordable housing, but has yet to bring one unit online. Why not begin with Cass-Henry? In structures that already exist and were originally constructed to accommodate efficient urban living? And it doesn't hurt that we can do a bit of historic preservation while we're at it.

I look forward to your body's deliberation, as well as to your vote to support the Cass Henry block.
In a
statement
to Michigan Radio, Olympia Development Company touted its "long and successful history of historic redevelopment," which includes the Fox Theatre, back in the 1990s, and the Wagner Baking Company into MotorCity Casino Hotel, also in the 1990s. For the company's full statement,
click here
.
Stay on top of Detroit news and views. Sign up for our weekly issue newsletter delivered each Wednesday.