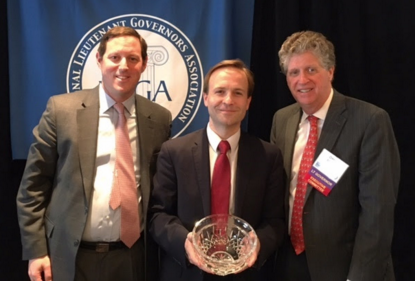 The National Lieutenant Governors Association has awarded Lieutenant Governor Brian Calley for his leadership in public health. Yes, Calley, a member of the administration responsible for a massive public health crisis in Flint.
Governor Rick Snyder's right-hand man received the nifty bowl pictured above during the association's Federal-State Relations meeting in Washington last week. The NLGA selected Calley for the honor in part for his work "to prevent childhood lead exposure", an effort undertaken at the behest of the governor after a state error sent lead-contaminated water flowing into the homes of Flint residents.
Snyder tapped Calley to chair the
Child Lead Poisoning Elimination Board
a year ago. In November, the group released a long-term strategy for
addressing child lead exposure
and poisoning in Michigan.
"The impact of lead exposure on a child can be life-altering," Calley said in a statement when the report was released. "By taking a proactive and coordinated statewide approach, we can begin targeting lead hazards instead of relying on reactive tactics after a child has been exposed."
The board issued more than 100 recommendations that include requiring all children to be tested twice for lead poisoning by the time they're three, ensuring that doctors and nurses be trained in lead testing and elevated blood lead level management, and developing a centralized reporting system to track kids with elevated blood levels to make sure they're getting the proper help. A spokeswoman for Snyder says the governor included $2 million in his latest budget proposal for initial implementation of the recommendations.
A Snyder-appointed emergency manager's switch of Flint's water source in 2014 resulted in a sudden spike in the number of young children with elevated blood lead levels. The Centers for Disease Control and Prevention said last summer that kids under the age of six who drank Flint water had a
50 percent higher risk of dangerously elevated blood lead levels
after the switch.
Lead exposure can cause life-long learning disabilities and behavioral problems in kids. At higher levels, it can cause diseases.