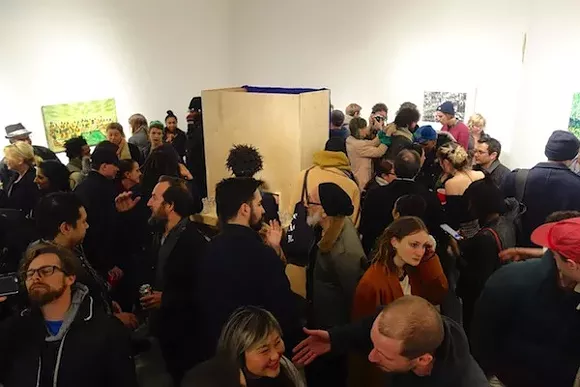 How does a 500-square-foot small-town Michigan gallery have a fundraiser featuring international superstars in a historic theater?
That's what we were wondering when we heard that Public Pool, the little but lively gallery in Hamtramck, was having a fundraiser at Jam Handy featuring an acoustic performance punk legends John Doe & Exene Cervenka of X.
Fittingly, it happened the same way a lot of the gallery's business gets done: DIY and word of mouth.
Turns out after doing the books this year, the gallery's Steve Hughes found a number of unpaid bills arrears. While the arrears were with friendly creditors, it was clear the gallery needed to find a way to sustain its activities for 2017 and beyond.
That's not easy when you're DIY.
Turns out that organizing art shows is the easy part. The gallery has shows scheduled into September. That said, they don't have any grants lined up. And they're not really set up in a way to profit off the shows.
"We never sell anything," Hughes says. "We don't make money on sales. We're probably the only gallery in town that isn't sales-driven. We let the artists do whatever the hell they want and don't put any restrictions on them. As soon as you're trying to sell art, it becomes something different."
"Giving artists freedom is our way of staying true to our punk rock roots," Hughes says. "We've never made any money there. All our Public Pool members paid money just to show art and have parties there. I've paid a lot of money myself to make it happen."
So how did this come together? Turns out Chris Peters, a gallery supporter, and a member of Hughes' musical ensemble, the Stupor Sound Experience, knows a friend of John Doe. (There's that word-of-mouth, DIY thing again.)
"Basically, Chris was out in L.A. and went to this party big party at Joshua Tree this past winter, where he got to hang out with John and Exene," Hughes says. "It's a big party they have every New Year's Eve, and the Melvins, Babes in Toyland, and X were playing there. It was just sort of this crazy guess. Maybe X could play? Chris said he'd ask. And Exene and John were into it."
It's not a complete surprise, Hughes says. It's not an "X" reunion. It's just Exene and John. And they're sympathetic to the plight of a little old art gallery: Exene is an artist and John wrote a book about the L.A. punk scene.
"It's just those two," Hughes says. "Not the whole band. A stripped-down version of the band, which should be a better way to see them."
Not only are Doe and Cervenka performing gratis (essentially for air fare), but the good people at Jam Handy have offered their commodious stage for free. This will make it a lot more affordable for the people who missed the $50 shows at El Club to see the punk pioneers for $15 apiece.
"That's a better deal," Hughes says. "It kicks ass. That's why we call it 'our wild gift for Detroit.'"
Hughes hints that there may be other collaborations with the duo down the line, including perhaps a show at Public Pool of Cervenka's art."
If all goes well, the show will be a success, the crowds will go wild, and the spunky little gallery will have some breathing room. Or as Hughes puts it, "Enough to pay for shows far into the future — until we go broke again."
Doors open at 7 p.m. Saturday, March 25, for a bill featuring DJ James Insight, Yada Yada, Supercoolwicked, the Vitas, DJ Ryan Spencer, and an acoustic set by John Doe & Exene Cervenka of X at Jam Handy, 2900 E. Grand Blvd., Detroit; $15; cash bar; 21 and older only; tickets $15 plus fees in advance available at brownpapertickets.com.