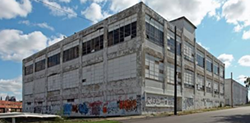 Updated Jan. 10:
Robert Elmes has defended the sale of Galapagos' Corktown building, saying the building was put back on the market in part so he could focus on his Highland Park complex, but also to raise funds for his son, who was diagnosed with leukemia last year.
Elmes' broker, A.J. Weiner of Royal Oak's Jones Lang Lasalle,
told the Free Press
that he believes the higher asking price is valid. "Believe it or not, the demand for product amongst the investor community has reached a level where the available buildings can achieve prices that are historically high," he said.
Originally posted Jan. 7:
Take a nice long, deep breath, maybe even a glup or two of water before before clicking on the link to
this
Crain's article about Detroit transplant Galapagos Art Space and the Corktown building it just put on the market — because guess what it's going to make your blood boil.
In 2013 Robert Elmes, the founder of the gallery, decided to relocate to Detroit because, as he told the
Detroit News
, "New York has become far too expensive to incubate young artists." Well, according
Crain's
, Elmes has recently decided to sell one of the nine Detroit buildings he bought two years ago so that he can focus his attention on the sprawling artists' area he is cultivating in Highland Park.
Okay, so here is the part that may raise your blood pressure.
Getting the axe is a 138,000 square feet Corktown behemoth that Elmes bought in 2013 for $500,000. How much is he asking for it a mere two years later? $6.25 million.
We could try to break down for you the irony of this situation but the Huffington Post's
Kate Abbey-Lambertz
did such a good job we're instead going to leave you with her perfect synthesis of the situation via Facebook.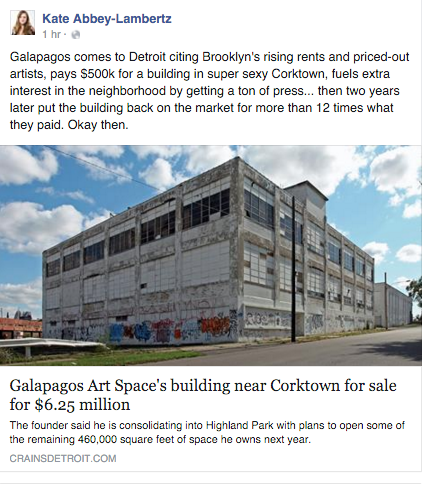 Sometimes don't you just hate the world.