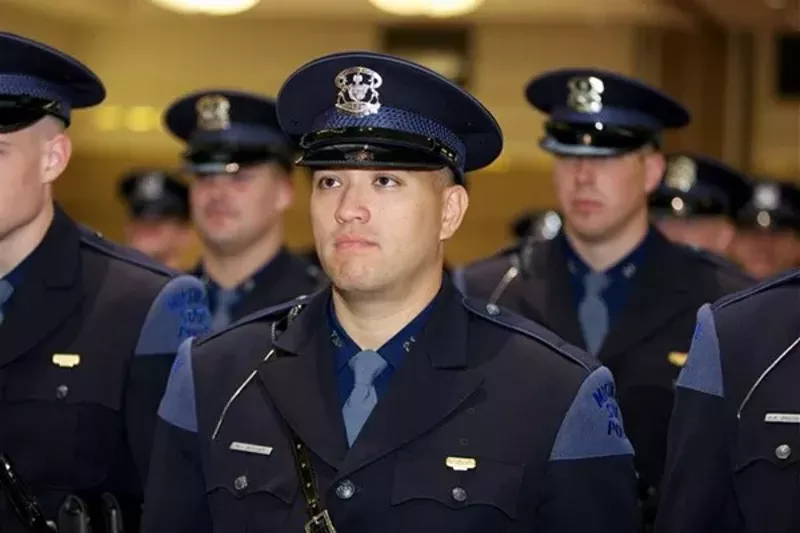 Mark Bessner, the former Michigan State Police trooper involved in the death of a Detroit teenager, was convicted of involuntary manslaughter on Wednesday.
On Aug. 27, 2017, Bessner and his partner attempted to pull over 15-year-old Damon Grimes, who was riding his ATV on city streets on Detroit's east side. Bessner and his partner pursued Grimes by car when Bessner deployed a Taser from the passenger seat of the moving vehicle, causing Grimes to crash into a parked pickup truck and die.
MSP protocol prohibits the use of a Taser in a moving vehicle. It wasn't the first time Bessner was disciplined for excessive use of force. Bessner had been involved in previous incidents of
inappropriate use of a Taser
, and had also been involved in
40 use-of-force incidents
in less than four years.
The 46-year-old former trooper was also charged with second-degree murder, but the jury opted not to pursue those charges.
In court, Bessner said he believed Grimes had a gun. He told the court that he was shocked when he didn't find a gun — and that Grimes was only a teenager.
"All I could think of was this family lost their son," Bessner said from the stand,
according to WXYZ
. "And all I could think of was my daughter and what they must be going through. I can't bring Mr. Grimes back and I can't fix my family."
"The jury made a strong statement today about the defendant's criminal actions," Wayne County Prosecutor Kym Worthy said in a statement. "This verdict was a result of a lot of hard work by my office and law enforcement. I want to thank this jury and it is my earnest hope that this verdict brings some small semblance of peace to the Grimes family."
"The Michigan State Police appreciates the careful deliberation of the men and women of the jury, and we are grateful to the Wayne County Prosecutor's Office for their dedication to justice," the department said in a statement. "We send our sincere condolences to the family, friends, and supporters of Damon Grimes."
Bessner will be sentenced on May 2. The maximum penalty is 15 years in prison.
Stay on top of Detroit news and views. Sign up for our weekly issue newsletter delivered each Wednesday.