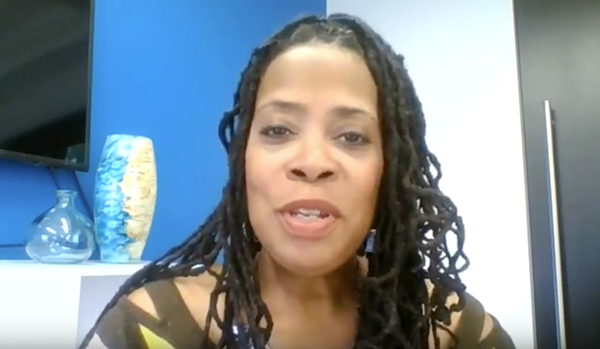 Anita Belle, a reparations activist from Detroit, has jumped into the 2020 presidential race.
"I am not a career politician or even a billionaire," Belle, a Democrat, said while
announcing her candidacy on YouTube
on Tuesday. "In fact, like President Barack Obama, I am a community activist."
Belle, who briefly ran for U.S. Senate on the Green Party ticket in 2017, said she decided to run because none of the presidential candidates has offered a detailed reparations policy. Belle added that all of the presidential hopefuls were invited to two upcoming conventions on reparations but none accepted.
So far, at least four Democratic presidential candidates — Elizabeth Warren, Kamala Harris, Julian Castro, and Marianne Williamson — have said they favor some sort of reparations. But Belle questions their sincerity.
"When every single Democratic presidential candidate failed to hear and speak with blacks who specialize in the topic of reparations, it appears that reparations are simply being dangled as a political carrot in order to get out the black vote," Belle, who is popular in the local activist community, said.
Reparations have traditionally referred to compensating African-Americans whose ancestors were enslaved. But the concept has changed for some supporters, who say reparations should address not only slavery but the continuing impact of institutional racism.
For example, studies have shown that racist housing policies from the 1930s to the 1960s shaped the wealth patterns of today's communities, especially in the Detroit area. During that period, African-Americans were denied government-backed mortgages that were available to white families. The low-interest loans made it possible for white people to move to the suburbs and buy a home, while African-Americans were forced to rent in underserved, deteriorating neighborhoods.
As a result of that practice, known as redlining, white people generally had access to better schools and services, and their housing values increased, creating wealth for future generations. In the meantime, African-Americans were stuck in cycles of poverty that persisted for generations and still exist today.
Journalist and author Ta-Nehisi Coates laid out a persuasive case for reparations
in a widely read article in The Atlantic
. His idea of reparations was not the same as the traditional concept.
While the chances of Belle winning may seem slim, her presence in the race could become a much-needed catalyst for meaningful discussions on addressing systemic racism.
The Black vote is expected to be a critical factor in the presidential election, especially in swing states like Michigan, Ohio, and Florida, and Belle is tired of the same empty promises.
"It is time to repair and redeem America," Belle said.
You can follow Belle's campaign on
Twitter
,
Facebook
, and her
candidacy website
.

Stay on top of Detroit news and views. Sign up for our weekly issue newsletter delivered each Wednesday.