"I'm gonna win. Period."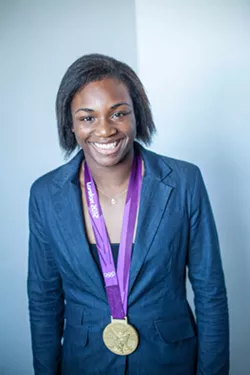 That was the statement Flint native and Olympic gold medalist Claressa Shields gave to NPR regarding her chances at this summer's games in Rio.
Claressa Shields, 21, is the first woman ever to win a gold medal in women's boxing in the Olympics in 2012. Prior to 2012, boxing was the last all-male sport in the international sporting event.
For many, winning Olympic gold would seem to be one of the highest honors an athlete could achieve, and with it, the spoils of success would be sure to come.
However, for Shields, it was a bit different.
NPR
journalist Sue Jaye Johnson, followed the boxer during the four years following her 2012 win, and put together a beautiful yet haunting account of Shield's life post-gold medal.
According to the
NPR
piece, Shields continued to live a life different than most Olympic athletes. She used the $1,000 a month her title granted her with to pay for her mother's water bills and to help support her older brother.
"I'm gonna win. Period."

tweet this
The interview noted how the boxer (whose overall record is 74 wins and one loss, an achievement by any measure) lacked the publicity many other Gold medal-winners are afforded after a big win. She wasn't asked to be sponsored by any athletic wear companies, there was no promotional cereal box picture, and when NPR asked why this never happened, Shields had a simple and harsh answer: "I wasn't the ideal woman. I wasn't the pretty girl who wears her hair straight. I don't know. I guess I wasn't what they were looking for."
When Shields returned to the amateur circuit shortly after the London games her coach met with USA Boxing officials who advised Shields to stop talking about fighting.
Shields response was simple: "I box." Then, according to
NPR,
her coach Jason Crutchfield told her, "It's and image thing. Just tone it down a bit," but regardless of what would be best for her public image, Shields continued to talk about her passion, about fighting.
NPR explained that "It's one thing for a girl to fight —but to admit that you like that it, makes a lot of people uncomfortable," and Shields is not afraid to admit that fighting is what she likes best.
Coming from one of the most dangerous cities in America, having a mother struggling with addiction, and an older brother in prison, Shields is candid and unapologetic about her personal struggles — and how they motivate her to strive for more.
"I wasn't the ideal woman. I wasn't the pretty girl who wears her hair straight. I don't know. I guess I wasn't what they were looking for."

tweet this
Shield told NPR she enjoys proving people wrong — including her own father, who Shields said told her boxing was not a girl's sport (her father was included in the NPR interview and during a particularly touching moment, told his daughter "Truth be known, little mama, you are awesome.") — and plans to do exactly that when she returns to ring in Rio on August 7.
The full interview with Shields is really worth a listen/read and can be found
here
and at the beginning of August, the documentary about the gold medalist, filmed by Johnson,
'T-Rex'
will be available for viewing.