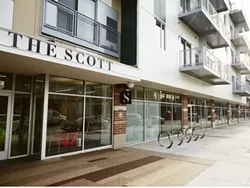 Authorities from the federal Drug Enforcement Agency executed a search warrant in The Scott luxury apartment building in Detroit's Brush Park today.
In an email obtained by
Metro Times
, the building's management tells residents that DEA agents were on-site earlier in the morning. A DEA spokesman confirmed the agency was at the building to conduct a search warrant, but said he could offer no further comment on an ongoing investigation.
A spokeswoman for building developer Broder & Sachse could not comment except to confirm the investigation took place and say that management is fully cooperating with authorities.
In the email, sent to residents of The Scott at 9:15 this morning, management said the DEA executed a search warrant in a single unit. It noted all residents are pre-qualified through complete background screenings, and "all residents and staff are safe and were not in danger at any point during the investigation."
The $65 million development opened in late 2016. Rents for the luxury apartment complex, which features a rooftop pool and year-round outdoor spa, range from $949 a month for a studio to $2,849 a month for a three-bedroom unit. It is located at 3150 Woodward Ave. between Midtown and Brush Park.