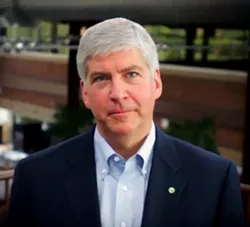 You wouldn't know if it you relied on the local dailies for news, but the Sixth Circuit Court of Appeals in Cincinnati heard oral arguments in a long-running legal challenge to Michigan's emergency manager law.
The lawsuit, filed in 2013, argues that Michigan's emergency manager law, expanded under Gov. Rick Snyder's tenure, has been "principally imposed" on majority black communities and school districts. The powers authorized to a single appointee to run a city, the plaintiffs say, also violate the U.S. Constitution, along with the Voting Rights Act.
"If our federal laws and Constitution are to have any meaning at all, then this law must be overturned," said Julie Hurwitz, co-counsel for the plaintiffs,
in a statement
. "There is no place in a democracy for the unilateral appointment of dictators in any of community, especially not those that have historically been most disenfranchised."
Per WDET
, an attorney representing Snyder, a Republican, told the court the law is "restorative in nature."
"It is temporary in nature, and it's designed to fix serious emergencies in the state's local governments."
But Darius Charney, an attorney with the Center for Constitutional Rights, said the law strips people of the "right to vote" by allowing for "elected officials [to be] summarily replaced with unelected and unaccountable individuals.
"This is the situation for low-income communities of color throughout Michigan," he said in a statement.
U.S. District Judge George Caram Steeh dismissed all but one count of the complaint in late 2014,
according to the Freep
.
The plaintiffs had the last count dismissed, thereby allowing them to file the appeal.
If the appeal is successful, the case would likely head back to Steeh for trial.
Update: A previous version of this story attributed a statement by attorney Julie Hurwitz to "Julie Schwarz," based off a press release on the hearing. We regret this error.