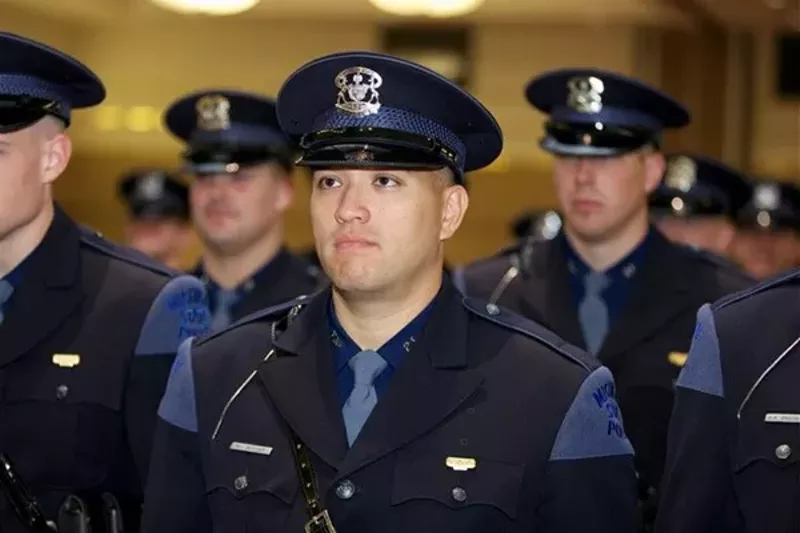 The state police trooper who last year chased and tased a Detroit teen riding an ATV, leading the boy to crash and die, had reportedly been involved in 40 use-of-force incidents in the less than four years before the episode on Detroit's east side.
Let that sink in for a moment.
Forty
use of force incidents. The jaw-dropping discovery is the subject of a newly published investigation by the
Detroit Free Press
. Additional findings from the paper include that ex-trooper Mark Bessner had been disciplined previously for misusing his Taser and, in a separate incident, chasing a citizen without activating his emergency lights, sirens, or recording equipment.
Sound familiar? That's because Bessner last August allegedly electro-shocked 15-year-old Damon Grimes in violation of department policy, which says officers can't deploy a Taser from a moving vehicle. Bessner was chasing Grimes for riding an ATV through a Detroit neighborhood. A separate
Free Press
investigation revealed last week that Bessner also did not appear to activate his emergency lights until 24 seconds after the teen crashed.
"It doesn't sound like he should be a police officer," a criminologist who specializes in police pursuits tells the paper.
In addition to the 40 use-of-force incidents, the Freep reports Bessner was involved in 17 pursuits and five accidents in the four years before he confronted Grimes.
You can read the full article on Bessner's tumultuous time as a police officer
here
.
Bessner resigned last year. He's charged with second-degree murder in Grimes' death. His trial is set for Aug. 20.