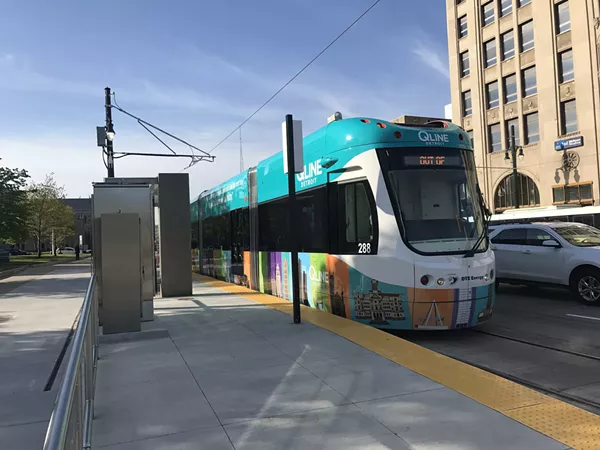 As they say, all good things come to an end. Starting Tuesday, Sept. 5, the QLine will begin charging fare.
Rides on Detroit's newest streetcar have been free since it opened in May, with the initial trial period extended to Labor Day so operator M-1 Rail
could work out some kinks.
Fare will be $1.50 for three hours or $3 for a day pass, with $30 monthly passes and $285 annual passes also available. Tickets can be purchased on the streetcars with cash, or using credit card at station kiosks or while using the QLine smartphone app. Bus transfers are 25 cents and can be purchased onboard as well.
According to a new report by
Crain's
, the total construction cost for the QLine, which travels in a 6-mile loop, is expected to be $144 million — an increase from the initial estimate of $137 million. The nonprofit M-1 Rail hopes to eventually turn the system over to the Regional Transit Authority or another transit agency, which would come with matching federal government funds of $60 million. Meanwhile, public transportation advocates are hoping that the QLine
can eventually become part of a more robust public transportation system.