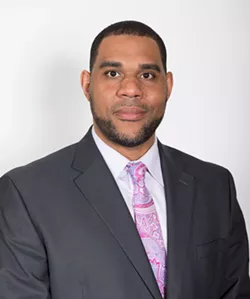 Even before he took office, President Donald Trump dropped some of the promises that fired up his far right base during his campaign. Among other quick reversals, he decided Hillary Clinton wouldn't be locked up, and the swamp won't be drained. Thus, many hoped that proposals regarding civil rights and immigration — like establishing a Muslim registry and barring immigrants from Islamic countries to enter the United States — were also nothing more than fuel for the stadium crowds.
Sadly, extreme immigration measures appear to be one of the few campaign promises on which Trump followed through, and the merry band of hatemongers he appointed to his Cabinet shows he is committed to the cause. It includes white supremacist Steve Bannon, who started the far right wing conspiracy "news" site, Breitbart; Alabama Sen. Jeff Sessions, who said his only problem with the Ku Klux Klan is that they smoke pot; and disgraced Gen. Michael Flynn, who appears to have collaborated with Russia during the presidential campaign and called Islam a "vicious cancer inside 1.2 billion people."
The cruelty will hit especially hard in metro Detroit, which is home to one of the nation's highest concentrations of Muslims. But while local Muslim leaders we spoke with say there's some fear and apprehension over what could turn into a protracted civil rights battle, they add that their community is smart, organized, and established — and they're prepared for what comes next.
In short: Ugly times are upon us, but the Muslim community isn't trembling.
Moreover, it isn't alone. The leaders who Metro Times spoke with stressed that one of the most important strategies is to form meaningful partnerships with the Latino community, African-Americans, women, and other faiths, like Jews, Catholics, and Christian Arabs.
"There's a saying that if you violate the civil rights of one group, then the civil rights of all groups are in jeopardy," says Kassem Allie, the executive administrator at the Islamic Center of America in Dearborn, the largest mosque in North America. "Politics aside, we generally have common interests — economic rights, civil rights — and when these interests are combined and are spoken in unison, in concert, they are that much stronger. We are heard more clearly and we get more attention."
And that makes sense. After all, Trump is the guy whose taglines include "grab 'em by the pussy," and "build the wall." African-Americans (referred to by Trump as "the blacks") aren't crazy about him after the David Duke endorsement, the KKK victory parades, and Trump's hesitance to denounce the Klan. Alt-right and neo-Nazi goons who backed him are questioning whether Jews are real humans while using his administration to worm their way into the national dialogue. It seems only white men are safe and secure, and that means everyone else shares some goals. Thus, it stands to reason that tens of millions of people working together for common interests are stronger than the nation's Muslims going at it alone.
"We are working really hard to get away from silo organizing. We need to be working together, and expanding our networks to create more sustainable solidarity with other communities of people," says Asha Noor, a leader the Take on Hate project for ACCESS. "People now feel more urgency on this and we can't leave groups isolated to fight alone. We need to be there for other communities that are marginalized, and the only way to do that is building a (coalition)."
It brings to mind Aesop's "Bundle of Sticks" fable. The moral: "There's strength in unity." Sure, fables can seem trite, but it's hard to think of a time when the principal is more fundamental to such a high stakes cause.
Dawud Walid, the director of the Council on American-Islamic Relation in Michigan (CAIR-MI), would like to see that kind of teamwork. "We're all facing a really disturbing proposition, and I believe that it's more incumbent for marginalized communities to come together in protesting, and even combining efforts in terms of litigation," he says.
That includes pooling resources in the courtroom. It's what we saw in women — Latina, black, white, and the rest — walking together in the Women's March on Washington. It's the type of solidarity in local marches like those in Hamtramck and Southwest Detroit. Post-election, ACCESS put together a healing and strategizing session that drew 200 people on short notice. And beyond working with other minority groups, Muslim leaders say they are partnering with law enforcement and politicians to protect their community at the local level.
Partnering also means supporting one another on a personal level, says Eliza Perez Ollin, director of the Detroit Equity Action Lab at Wayne State University's Damon J. Keith Center for Civil Rights. When Trump supporters intimidated Latinos in the days following the election, a Muslim friend called to offer her and the Muslim community's support.
"It's healing for them to reach out, and to know that we have allies and solidarity, and we don't have to go through everything alone," Perez Ollin says. "We can do it together."
While the protests and marches send a message, effecting change requires an enduring, coherent plan going forward, and that's the Action Lab charge. Established in 2014, it's a broad coalition composed of around 30 ethnically, racially, and religiously diverse groups working to address structural racism in Detroit. Its projects and programs cover a wide range of issues in arts and media, community development, education, environment, food security, health care, and housing. The Action Lab also recently hired journalist Martina Guzman to help deliver its message and shape the larger conversation.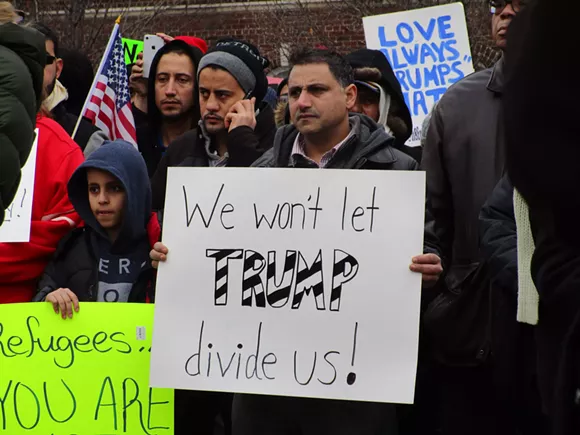 "(The Action Lab's) skills are deep," Perez Ollin says. "Not every organization has the same capacity, but we all have different resources and sets of skills, and ... this gives us the opportunity to align them and move forward. Even though we might be doing it in a different way, it's a much fuller solution."
Indeed, threats to metro Detroit's Muslims are terrifying and call for these type of partnerships and solutions. The election cycle fueled a sharp increase in hate crimes that the Justice Department is investigating, and Islamophobic sentiment is enough to batter one's psyche. (On a related note: Statistically speaking, your chances of being killed by a cow are greater than your chances of being killed by a Muslim terrorist in the United States.
At the top, Trump is floating the idea of a Muslim registry, though the concept is nothing totally new. George W. Bush developed the National Security Entry-Exit Program, or NSEERS, post-9/11, which required new Muslim immigrants to register with homeland security and report to the agency.
While the Bush administration maintained a database of 80,000 new Muslim immigrants, it rooted out zero terrorists. NSEERS is considered a failure and an embarrassment by any measure, and in December the Obama administration began the process of dismantling it so it couldn't be expanded upon by Trump.
'We're not going to sit back in the community and allow ourselves to be abused and be treated like second-class citizens.'

tweet this
But what Trump is proposing is NSEERS on steroids, and would involve monitoring those who already live here and hold citizenship. (People of all backgrounds and religious beliefs are vowing to register, should Trump follow through.)
Beyond that, the administration tried to halt immigration from "terrorist" countries, and the sum of Trump's ideas and other attacks on Muslims are worrisome.
"We knew there was a turn toward nativism and white supremacism; it's just kind of been brought to the forefront, it's more out in the open," Noor says. "There are certain spaces I learn to avoid, more so than any time in my life. It's worse today than post-9/11, so you have to know your surroundings, be vigilant, and walk with multiple people at night."
Still, local Muslim leaders say the community isn't standing around and "wringing its hands."
"Muslims who are fearful are also defiant, and are of the mind that we're not going to sit back in the community and allow ourselves to be abused and be treated like second-class citizens," Walid says. "We will not be bullied ... without a fight — that is what I'm hearing."
Kassem echoes that sentiment.
"Even though we are a minority community, we are a mature community, and we have the resources to protect ourselves, to respond and create coalitions with other communities that may feel marginalized," he says. "Our community has progressed on every level — education, economic, business, even in governmental positions. Our progress is something we are proud of, and we will continue to promote it, regardless of who is in the White House and who are our elected officials."