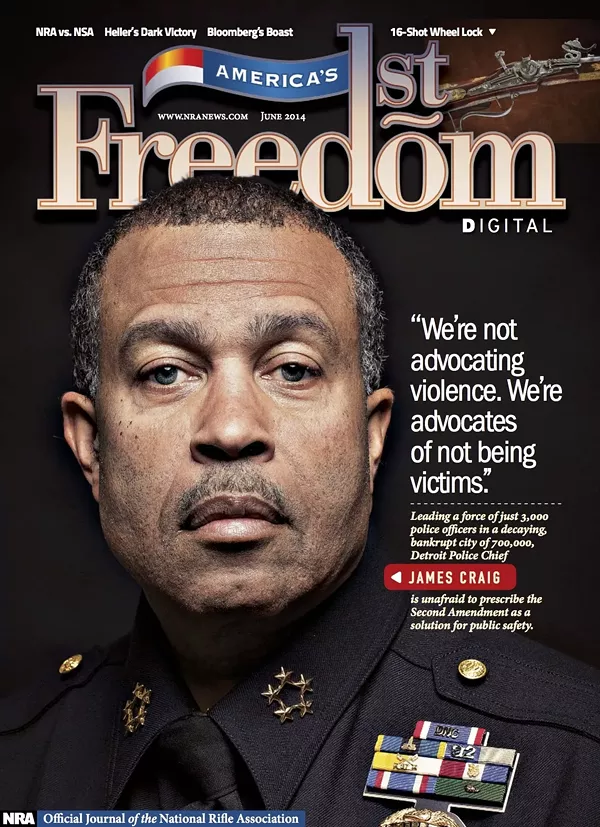 The police chief known for expressing controversial views that once landed him on the cover of a National Rifle Association magazine is at it again. Detroit Police Chief James Craig now says he supports arming some teachers in the classroom.
Craig took to the airwaves of
WWJ-950
last week to convey his support for the idea that has divided the nation in the wake of this month's deadly high school shooting in southern Florida.
"I think it makes sense," Craig said in a live interview with the station. "These mass shooting incidents, they happen between four and six minutes. Police are notified, the fastest police will get there could be as soon as a few minutes to eight minutes, and so by that time ... the carnage has happened, so this is about the business of mitigating a threat."
Craig said the armed teachers he envisions should have to go through "a very thorough vetting process." He said teachers who are ex-police officers or have served in the military would make good candidates. Not all teachers would be armed in this hypothetical scenario, only some.
The comments came after President Donald Trump conveyed his support for arming teachers in the classroom. On Thursday, the president suggested that teachers who undergo gun training even be rewarded with bonuses. Craig's statements also somewhat mirror the philosophy of the National Rifle Association, which supports arming school guards as a way to prevent school shootings.
This isn't the first time Craig has come out on the NRA's side of the gun control debate.
At a 2014 Detroit Police Commission Meeting
, Craig said
he thought more armed citizens would help drive down the city's crime rate. The following year, that sentiment landed him on the cover of an NRA publication. After the Paris attacks in 2015, Craig made national headlines for saying that
terrorists would think twice about coming to Detroit
because so many citizens carry guns. (
WXYZ
reported that year some 30,000 Detroiters were in possession of legal guns, or 1 in every 23 city residents).
By contrast, however, Craig has said he wants to see guns kept out of the hands of the
mentally ill
.
In response to criticism over his pro-gun rhetoric, Craig in 2015 branded his philosophy as
"pro-life."
"Pro-life, not pro-victim," he told WXYZ. "Addressing an imminent threat to life."
Craig's support for arming teachers has drawn some backlash on social media. A former longtime Detroit police officer who felt Craig was on the wrong side of things pointed out that many corporations have
cut ties with the NRA
in the wake of the high school massacre in Parkland. They suggested the administration of Detroit Mayor Mike Duggan do the same with Craig.
A spokesman for the mayor's office, John Roach, said in an email, "Chief Craig is certainly entitled to his opinion, however his opinion is not the position of this administration."