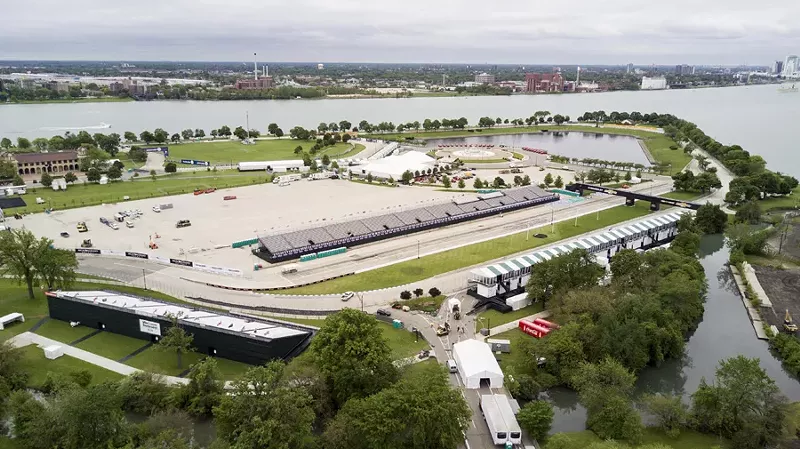 In the ongoing debate over whether the Detroit Belle Isle Grand Prix's organizers should be allowed to convert the city's one-of-a-kind island park into a private raceway, gearheads typically fall back to one point — the annual event provides a huge economic boost to the city.

This year, billionaire Grand Prix founder Roger Penske is claiming that his 2017 race generated $58 million in spending in the local economy, up $11 million from 2014. He hired a sports consulting firm that came up with the figure, and the media accepted it as fact.

On the surface, it's a hard point to argue against. Are we really going to deprive hardworking local business people of $58 million just because some park users don't want to share Belle Isle with IndyCars for up to four months each spring and summer?

The problem is that many critics view the type of economic impact studies that the Grand Prix funded as wild exaggerations that are more exercises in public relations than serious economic analyses. The sports industry is full of charlatan economists who assemble these type of reports for clients attempting to access public resources, though there are plenty of studies, articles, and books refuting them.

For example, The New York Times recently reported on a study of the 2012 Indianapolis Super Bowl. Organizers claimed the event led to 224,000 hotel stays, but the study found guests booked less than a quarter of that estimate.


Since there's growing frustration with the race in its current location on Belle Isle, and the economic impact is Penske's central justification, it's worth examining the study's claim in detail.

(For the sake of argument, let's ignore for now that the race could be held elsewhere in metro Detroit and the region would still benefit from the alleged economic impact.)

The first issue is one of credibility. The Grand Prix paid for the study, hiring St. Louis-based SportsImpacts — a marketing firm — to produce some numbers.

SportsImpacts provided us with their findings' executive summary, which we ran by Field of Schemes' co-author Neil deMause. His website tracks public subsidies for sports franchises, and he's written a book on the economic impact of sports stadiums and events.

He tells Metro Times the Penske report isn't the worst he's seen, but he notes most firms are given a target figure from which they essentially work backward.

"Most companies that do economic impact studies are in business to come up with an analysis that is going to make their clients happy," deMause tells us. "So if you are being hired by the Grand Prix to study whether there's an economic impact, you are going to bend over backward not to say that there's no impact at all.
"


"There are enough assumptions that you can tweak the study to make it sound better or worse, depending on what you do for your clients," he adds.

One of the big issues deMause notes is a concept called substitution. Any money spent at the Grand Prix is money not spent elsewhere in Detroit's economy.
If there are 50,000 people who spend money on day two of the weekend-long Grand Prix event, that's 50,000 people with less money to spend at the local pizzeria, at a sports bar, at a movie, and so on. If someone spends money on tickets and beer at the Grand Prix that would otherwise have gone to Tigers tickets and a beer at Comerica Park, is there really any new economic impact?
No.
If the Grand Prix no longer exists, will sports fans simply not spend money in the local economy?
That's unlikely.
However, there are those who travel from other regions to metro Detroit for the Grand Prix, and their spending really is new spending that wouldn't otherwise exist. But that leads us to a third problem with Penske's economic impact claims, which involves what deMause calls leakage.
Simply put, one has to think about where the money that's spent ends up. If a race fan comes to town and buys a beer and dinner at Nemo's, then the money is fully reinvested in the local economy.
But if someone comes to town and spends money that goes to IndyCar or corporations that are involved with the Grand Prix but not headquartered in Detroit, then there is no economic impact here. That principle also applies to spending at corporate hotels and restaurants that do provide jobs, but also spend or reinvest their profits elsewhere.
On that topic, deMause points to
a comment
by College of the Holy Cross economist Victor Matheson, who is also the North American Association of Sports Economists' president: "Imagine an airplane landing at an airport and everyone gets out and gives each other a million bucks, then gets back on the plane. That's $200 million in economic activity, but it's not any benefit to the local economy."

That's all made worse by Belle Isle's isolation. The race takes place on an island with its own vendors and infrastructure, so while some people park downtown, drink and eat at a bar, then catch a shuttle, there are plenty of people who are bypassing downtown and its businesses altogether. 

So when it comes to the Grand Prix, Detroit is uniquely positioned to benefit even less than other cities do for major sporting events. 


So what kind of impact is the Grand Prix providing? That's unclear, but as Matheson
told Marketplace
in 2015, "A good rule of thumb that economists use is to take what stadium boosters are telling you and move that one decimal place to the left, and that's usually a good estimate of what you're going to get."
That would mean a $5.8 million economic impact in Detroit. A
Grand Prix spokesperson claims leakage is included in the study, but otherwise declined to comment.
Finally, there's no accounting for the cost of putting on the event, though Penske takes care of most of the logistics. Sandra Novacek is part of Belle Isle Concern, a group of residents who are working to remove the race from the island. She notes that economic impact studies like this "are notoriously poor measures of actual worth to the public."
"A responsible cost-benefit analysis of the value of the Grand Prix would include factors such as the cost to taxpayers of fire, police, and emergency services, cost to park infrastructure from the race, loss of the public enjoyment of island resources for much of the spring, and the environmental impact on habitat and wildlife," Novacek tells
Metro Times
.
Race organizers also argue the Grand Prix puts Belle Isle and Detroit "on the national stage," and in that way boosts the area's image. But Novacek says that the island doesn't need any help with its image.
"[Visitors] come in droves throughout the year for picnics, family reunions, biking and walking, and visits to the aquarium, conservatory, and Great Lakes museum — and they'll be coming from all over the world to see the Piet Oudolf garden," she says. "The Grand Prix would have a greater economic impact, without so many negative costs, if it were moved to another part of Detroit that actually needs the revitalization a racetrack could bring."
Stay on top of Detroit news and views. Sign up for our weekly issue newsletter delivered each Wednesday.