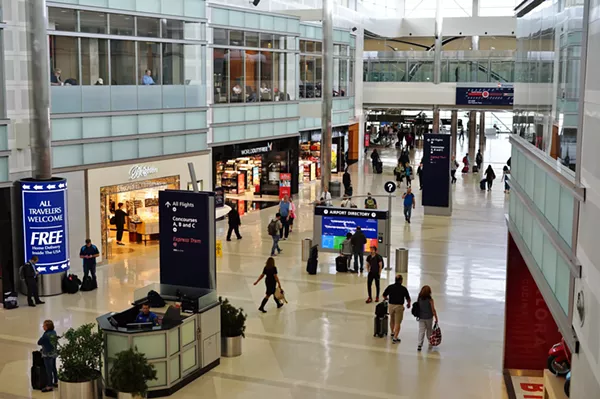 Fear, not Detroit travelers—whether you're departing, arriving, or simply flirting with escape, the Detroit Metropolitan Airport is among the best for holiday traveling, according to a recent study.
Home lighting supply company Elite Fixtures gathered government data pertaining to transit statistics to determine the best and worst airports in the U.S. as well as the best and worst airlines and dates to travel. The study, which analyzed the 50 busiest airports as well as all departing flights during the last two weeks of December from 2012-2016, concluded that Detroit-Metro came in 5th place with an average of 21% of flights delayed, 1.7% canceled with an average delay time of 63 minutes. Honolulu took the number one spot with only 12% of flights delayed. Ronald Reagan in D.C. and Seattle-Tacoma International also ranked among the best.
Three of the largest Texas airports, however, were named some of the worst. Dallas/Fort Worth, Dallas Love Field, and Houston's William P. Lobby in the top spot with 42% of all flights delayed.
For delays and weather advisories, click
here
. Visit
TSA.org
for regulations and specifications.