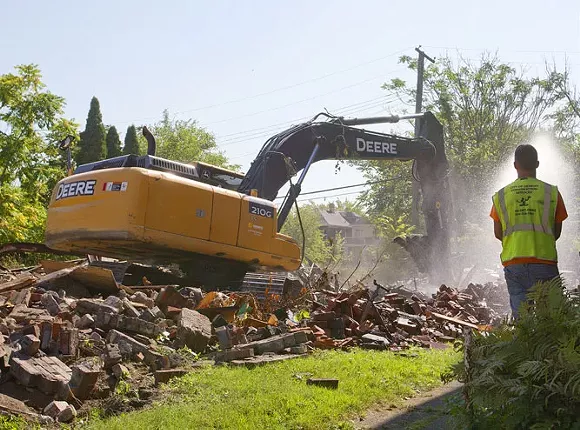 When Mike Duggan was running for mayor of Detroit four years ago, he pledged to embark on an unprecedented and aggressive campaign to demolish thousands of blighted houses scattered across the city's 139 square miles.
But the vehicle for those demolitions, the Detroit Land Bank, has become mired in controversy as local, state, and federal authorities investigate claims of fraud, bid-rigging, environmental violations, and mismanagement.
Despite escalating legal problems, mounting attorney costs, and a significant decline in demolitions, the tax-funded Detroit Land Bank has dished out significant raises and more than doubled its staff of full-time employees, from 56 in August 2014 to 125 in January 2017, according to records obtained by Metro Times under the Freedom of Information Act. During that period, payroll costs ballooned from $3.9 million to at least $6.8 million, which does not account for overtime by hourly employees.
When Duggan took office in January 2014, the Land Bank had only five employees.
Half of the current employees live outside of the city, even though the Land Bank's mission is to convince people to move to Detroit. Of the 10 officials who make more than $100,000 a year, six live in the suburbs, the records show.
The escalating payroll costs didn't translate to a more productive demolition program. In fact, there were about 150 more demolitions in August 2014 than there were in the first five months of this year combined. Since January, the Land Bank has averaged fewer than 30 demolitions a week, far below the goal of 150.
In a scathing audit in March, Detroit Auditor General Mark Lockridge criticized the Land Bank for "escalating administrative costs amid weak internal financial controls, along with inadequate program management and oversight."
Lockridge questioned "the ability" of the Land Bank "to be self-sustaining in the short and long term."
Land Bank spokesman Craig Fahle defended the payroll costs, saying the additional employees are necessary to ensure the city is in compliance with local, state, and federal laws.
Earlier this year, for example, the Michigan Department of Environmental Quality slammed the Land Bank for "lack of oversight" of its demolition contractors, who failed dozens of times to prevent deadly asbestos from spreading across neighborhoods. The state demanded better oversight of asbestos removal.
"We are requiring a secondary asbestos program now," Fahle says. "Before the house can be demolished, we now have a third independent party to make sure the asbestos is remediated. We are trying to stay clean with the DEQ (Department of Environmental Quality). It's a big deal."
In 2016, the same year the Land Bank became the subject of a federal criminal investigation by the FBI and U.S. Treasury Department's inspector general, the beleaguered agency hired a consultant to increase the salaries of its top employees and change the names and responsibilities of most of their positions. Heather Zygmontowicz, for example, received a $30,000 raise for an annual salary of $95,000 after her position was changed from operations manager to assistant director of operations. Human Resources Manager Cynthia Thomas maintained her position but received a $26,370 increase for an annual salary of $71,370.
In August of that year, the Treasury Department suspended the Land Bank's demolitions for two months because of mismanagement, improper billing, and misallocation of federal funds. That summer, an independent audit commissioned by the Land Bank found that city officials hid demolition costs that exceeded the limits set by the state.
The Land Bank responded to the federal investigation by hiring two outside legal teams at a cost that exceeded $200,000 from June 2016 to December 2016, itemized invoices show.
The Land Bank's top wage earner is Irene Tucker, who is the CFO and interim director. Tucker, who makes $145,000 a year, is the fourth director of the land bank in less than three years. The other employees making more than $100,000 as of January 2017 are General Counsel Michael Brady ($135,000), Director of Inventory Darnell Adams ($125,000), Demolition Director Pura Bascos ($125,000), Dispositions Director Reginald Scott II ($125,000), Deputy General Counsel Tammy Daniels ($125,000), Public Affairs Director Craig Fahle ($120,000), Assistant Director of Projects Jano Hanna ($120,000), Senior Accountant Erica Cochran ($114,000), and Assistant Director of Inventory Robert Linn ($102,960).
The salaries, Fahle said, were largely determined by a consultant after comparing the wages to similar jobs in other big Midwest cities.
Fahle emphasized that the Land Bank's responsibilities now go far beyond demolitions. The agency, for example, has sold more than 1,000 vacant, but still-livable homes in auctions since January 2014. During the same period, the agency sold more than 7,000 side lots to adjacent homeowners for $100, seized 1,375 blighted properties by taking negligent property owners to court, and assembled land for future development. The agency also reached 1,475 consent agreements with negligent owners to clean up their properties to avoid court-ordered seizures.
In addition, the Land Bank has begun direct sales of vacant houses that aren't on the auction list.
"As the operation grows, and the volume of properties increases, we needed more employees," Fahle said. "We have added people in compliance, customer service, and finance as the complexity of the organization changes."
Fahle said the additional tasks have transformed the Land Bank into a formidable force to tackle blight and vacant properties that have plagued the city for decades. The agency has become the largest land bank in the nation, with an inventory of about 30,000 vacant houses and 66,000 empty lots, a majority of which were tax-foreclosed properties that don't sell during Wayne County's annual auctions.
By placing thousands of properties back in the hands of responsible residents, Fahle said, the city is collecting more taxes and helping stabilize challenged neighborhoods. But to ensure those properties are renovated and not neglected again, Fahle said the Land Bank staff must vigilantly monitor each purchased house.
The Land Bank has received more than $250 million in federal funding to pay for the demolitions and has razed more than 8,600 houses since January 2014. The agency expects to demolish an additional 4,000 blighted, vacant houses by the end of 2018.
Steve Neavling is the editor and publisher of Motor City Muckraker.