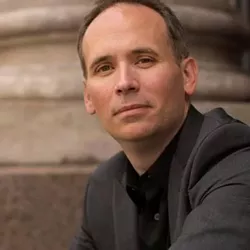 Robert Huschka, the top editor at the
Detroit Free Press
, was forced to resign after less than two years on the job.
The abrupt resignation, which was
announced Friday
, shocked and saddened a newsroom that has lost about two-thirds of its staff since media giant Gannett took over Michigan's largest newspaper in August 2005.
Gannett removed Huschka, an 18-year veteran of the
Free Press
, from his position as executive editor because the newspaper has been struggling with online page views and revenue and wasn't churning out enough meaningful news under his leadership, according to four reporters and an editor.
When Huschka was named executive editor in August 2015, many journalists in the newsroom were surprised because he didn't have the professional caliber of his predecessors and for years was quiet and relatively indistinguishable at a newspaper with its share of stars. A desk man who understood layout and digital content but lacked experience as a reporter, the St. Clair Shores resident grew into the job and gained respect as an affable, loyal, and sometimes goofy boss.
But it wasn't an easy time for the University of North Dakota graduate. On top of placing greater demands on a shrinking staff, Huschka was forced to lay off his wife, Amy, an assistant editor for social media, late last year as part of a brutal round of budget cuts that included five reporters, two photographers, and at least eight other newsroom staffers. Huschka's young son, Martin, has also been fighting for his life due to brain complications.
"Robert's a good man with a sweet family, and he had guts as our top editor," Pulitzer Prize-winning reporter Jim Schaefer wrote on Facebook. "We will miss him at the
Free Press
."
While the
Free Press
launches a search to replace Huschka, he'll be replaced in the interim by Jeff Taylor, who served as the newspaper's senior managing editor until July 2012, when he took the top editing job at the
Indianapolis Star
, another Gannett publication. Taylor couldn't be reached for comment.
In a memo to the newsroom Friday, Huschka maintained a positive tone.
"After 18 tremendous years at the
Detroit Free Press
, it's time for me to leave the newsroom — and move on to my next adventure," Huschka wrote this afternoon. "I'd like to thank Gannett and my award-winning colleagues at the
Free Press
for their amazing effort and support during my time leading Michigan's oldest newsroom. I'm proud of the work we've done here, and for the small part I've played in our motto, 'On Guard For 187 Years.' I'm excited about my next chapter and remain committed to telling stories that inform, engage and empower the citizens of Detroit and Michigan."
Steve Neavling, a former Free Press reporter, is the editor and publisher of Motor City Muckraker.