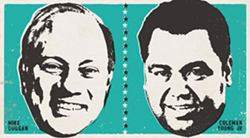 The messaging has been clear in Detroit's mayoral election: Incumbent Mayor Mike Duggan says there's one Detroit, while Coleman Young Jr. alleges there's two — the redeveloping areas versus the majority of the city, where titles like "most violent in America" and "poorest major city in America" are made manifest.
But according to a Detroit Free Press analysis of primary election results, Young Jr.'s message isn't resonating with the voters it's geared toward.
The Freep's comprehensive look at Detroit's roughly 300 voter precincts found the following:


• There was no statistical correlation between Detroit's high-poverty areas and support for Young, and he lost two of the city's three poorest precincts (the precinct he did win he won by only a vote)

• Young lost most of the precincts in his state Senate district, along with the Islandview neighborhood precinct where he's registered to vote

• Young did not see more support among black voters than Duggan
Overall, only 14 percent of registered Detroit voters cast ballots in the mayoral primary. In the 2013 mayoral election that featured Duggan and Benny Napoleon, 25 percent of registered Detroit voters cast ballots — an unusually high amount.
One poll suggests this year's mayoral election results are expected to land somewhere near where they did in the primary — when Duggan received 69 percent of the voter and Young Jr. received 27. A Target Insyght & MIRS News poll conducted the day before and the day after last week's lone mayoral debate found Duggan with a lead of 63 percent and Young with 28 percent. Duggan led across all demographics.